On Thursday 7th February 2019 at 1000hrs The Boer War Association Queensland held a ceremony at the Sherwood RSL sub branch centre commemorating the Battle of Onverwacht. The guest speaker was Maj. General Professor
John Pearn AO RFD who called on the wreaths to laid by interested parties. A contingent of 7 members representing the 31st Infantry Battalion Association attended and laid a wreath.
After the ceremony morning tea served in the club rooms attended by our group plus the representatives of the African Military Veterans Organisation of Australia ( SAMVOA ). We then moved to the Services Club for lunch.
Members should be aware that a significant number of the members of the Kennedy Regiment volunteered to join the
Australian contingent bound for South Africa during the Boer War. The Regiment was subsequently awarded the Battle Honour "South Africa 1901 -1902" in recognition of this service.
The following photos were taken at the sub branch function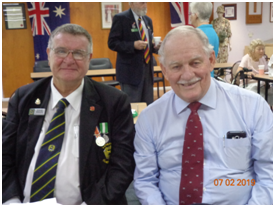 President of the SAMVOA Shaun Winson and 31st Battalion (Brisbane Branch) Secretary Tony Wadeson
At the Battle of Onverwacht Commemoration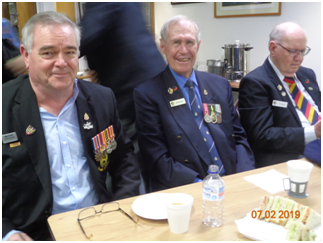 Mike O'Connor SAMVOA with 31st Battalion Assn members George Stanger and Mick James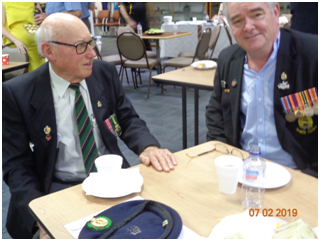 31st Battalion Association (Brisbane Branch) President Ray Fogg and Mike O'Connor SAMVOA