I regret to advise the passing of a good mate and a former proud member of the 31st Bn – Geoff Barlow. Geoff passed away yesterday at the Mater Hospital Townsville. Geoff had suffered from Cancer & had many Operations during the past couple of years.  
Geoff was a member of the 31st Bn during the late 50's & early 60's rising up through the Ranks to Sergeant prior having to transfer to Brisbane to complete his Pharmacy Degree at Q'ld University. 
He transferred from the 31st Bn to the 2/14th QMI. Brisbane. Whilst completing his Degree at Uni Geoff managed to transfer to Full time CMF with the Medical Corp. at – 1 Camp Military Hospital Yeronga. After Graduating as A Pharmacist Geoff then transferred to the ARA – RAMC  as a "Pharmacist"  an Officer Posting. 
During his Military Career Geoff served in Singapore & also an Extended posting to Vietnam  based at the 1st Australian Field Hospital Vung Tau. 
Geoff rose to the rank of LTCOL in the RAMC before he retired from the Army. He and his wife Pam & family retired to Magnetic Island Where for a time he operated a Pharmacy. He was the President of the RSL Sub – Branch at Magnetic Isl.
Geoff Barlow – RIP
Regards TONY
The following pictures are some of a collection previously sent by Geoff Barlow.
Memories of Battalion Parades held in Townsville during the 50s and 60s.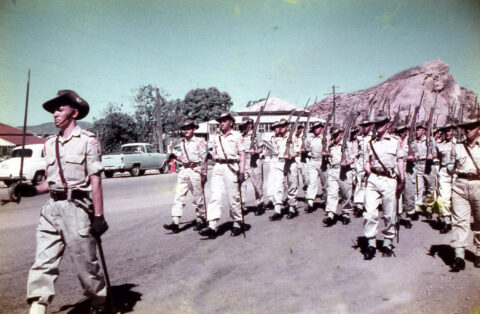 Pre 60s Khaki Uniforms and Blanco'd belts and Gaters
–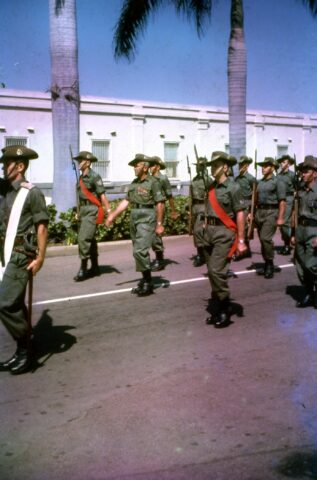 60s Jungle Greens Black Belts and New Gaters