Members, we have been advised of the sad news – the passing of "Elsie Burla" – wife of Bob Burla (Dec'd):- Former OC – Charlie Company Ingham & later Founder of the 31st Bn Association & Author of "Crossed Boomerangs" – History of the 31st Bn.
Elsie, continued to be a great supporter of the 31st Bn, particularly Charlie Company Ingham after Bob's death. Bob died prior to completing his Book – "Crossed Boomerangs" , – Elsie  completed the Book & organised its publication & distribution. Refer to the Attachment from Felix Reitano.
Elsie has continued attending the Battalions annual Church Service up until year ago & always wanted her Photo taken with the Old Brisbane Branch Boys who served with husband Bob.
Our thoughts go to the Family of this wonderful lady. –
RIP Elsie Burla
Tony
Tribute By Felix Reitano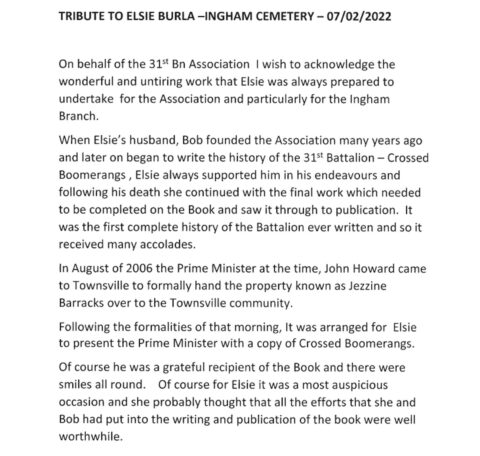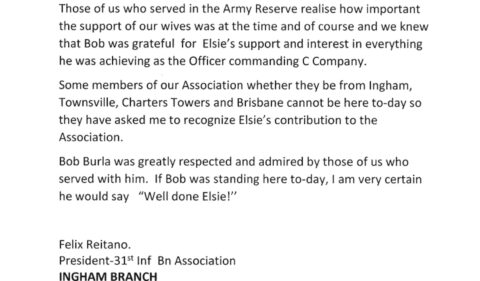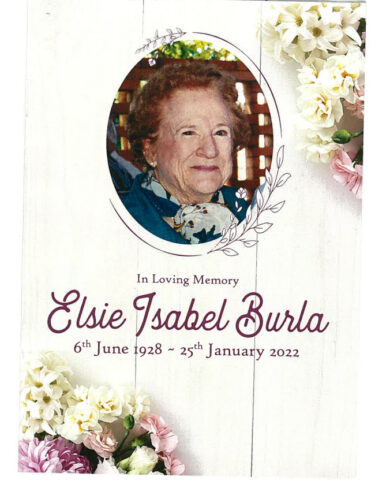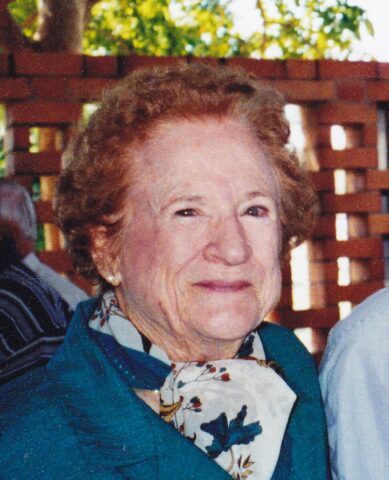 .
Elsie Burla – Obituary by Professor Stephen Graw – 7/2/22
I cannot recall exactly when I first met Elsie but it would have been either in the very late 1970s or the early 1980s at a function, which she would have attended with her husband Bob, in the Mess at Jezzine Barracks.
In fact, all of my early encounters with her were around social occasions either at Jezzine or, after I became the OC of 31 IRC, at 31 Battalion Association functions in either Townsville or Ingham (wth at least one occasion in Charters Towers ̶ after the dedication of the Memorial at the former Sellheim Army camp in 1985).
I remember her from that time as a very softly spoken, very gracious lady with a quiet sense of humour which she deployed easily when she got to know you.
My real association with her though only came about after Bob's untimely death in 1995 after a short illness. I was then the CO of the Battalion and I was greatly honoured when Elsie asked me to speak at the funeral. It was a very sad occasion but Elsie maintained her poise and was a rock of support for Bob's dad, Dario, through what was clearly a very difficult time for them both.
Shortly thereafter Elsie rang to ask if she could come to see me about how we might arrange to get Bob's history of the Battalion professionally published.
Bob had written it as a ten-part series of 'Historical Journals' which had then been compiled into a composite history of the unit.
I had found a copy in a sideboard in the Mess when I arrived in Townsville in 1977 – in three bound copies of roneoed typescript. I had dipped into those three volumes on occasion but had never read them through completely – always promising myself that "one day" I would.
I regret to say that that never happened – at least not while Bob was still alive ‒ and when I returned to the battalion as the CO in late 1994 I was more than a little disturbed to find that only the third volume could still be found. Of the first and second volumes there was no trace. It was largely assumed that they had been "borrowed" by someone and it was hoped that eventually they would be returned. As far as I know they never were.
I was therefore both glad and relieved when Elsie rang, and then came to see me, with her sister Veen, in my office at the University.
And that was when I discovered another aspect to Elsie ̶ her quiet but steely determination. Bob's dying wish, she told me, was to have the book published in a form that was, in his words, 'worthy of the Battalion' – and she wanted to make that happen.
She had a full unbound copy of the complete work with her and our first step was to convert it into data files that would be acceptable to a publisher in the electronic age. The Department possessed what then passed for a very effective scanner and my secretary, Pat Adams, patiently scanned all of the roneoed pages over the ensuing weeks.
However, our 1995 scanner did not take kindly to the typeface of the old manual typewriters on which Bob had typed up his original manuscript – especially after the pages were then reproduced on one of the old Gestetners. What came out of the scanner was not always entirely accurate – or, sometimes, even entirely English.
Spell-checking of the finished product helped a little but foreign place names, unit designations and military abbreviations, in particular, defeated Pat and it was Elsie who, page by page, word by word, comma by comma, name by name, unit designation by unit designation checked every one of those scanned pages to ensure that they were an accurate replication of what Bob had written. It was a Herculean task and a real labour of love – with Elsie often going back not only to the original manuscript but also to Bob's original source documents, references photos and maps to ensure that what we had was as accurate as we could make it.
Then came the task of finding a publisher.
At that time I chaired the North Queensland Military Museum Committee of Management and we had some connection with the then emerging Army History Unit.
I suggested to Elsie that we see whether the AHU might be interested, she concurred, and we wrote to the Head of the Unit who agreed to see whether the manuscript met the AHU's publishing criteria. After about a year of correspondence back and forth he advised us that their brief required a more policy-oriented approach and Bob's book, being centred on what had happened at the soldier level, did not fit that picture.
He did however suggest that another publisher, Nelsons, might be interested so Elsie and I contacted them. They were interested – but after some initial consideration they too felt that the book, though interesting, was probably not a commercial proposition.
We tried a couple of other possibilities with no real success ̶ and I have to say that at that point I was becoming a little discouraged.
But Elsie was not to be deterred and it was she who, once again, got the project back on the rails.
She saw me in early May 1999 (the 5th) with a copy of a book she had received that had been published by a commercial publisher of which I had not previously heard – Australian Military History Publications. The book was very professionally put together, it looked good and, more importantly for us, it contained contact details for the publisher – Clive Baker. We immediately rang him and arranged to send him a copy of the retyped manuscript for him to consider.
Eleven days later (on 16th May) Clive wrote back saying he would like to publish. Elsie's determination had paid off in spades.
And so started the publication process – but there was still a considerable amount of work to be done to convert the retyped manuscript into what would become a finished book which in Bob's words would be 'worthy of the Battalion'.
Elsie was a driving force throughout that process – checking references, organising photos and doing all the myriad little things that have to be done if a book is ever to see the light of day. I had given her a small booklet from one of the legal publishing houses that outlined the typesetters' marks that were then an essential editing tool and she assiduously set about familiarizing herself with them – and using them with every tranche of typescript that she checked – so that all of her corrections and amendments were carefully noted with the appropriate typesetters' mark in the margins so Clive could see exactly what had to be done – and how it had to be done.
With her usual thoroughness, Elsie also arranged for her work to be independently checked for correctness. She organized with Ian McIntosh, a former OC of B Company (Bowen, Proserpine and Ayr/Home Hill) and one of Bob's many friends, who was then living in retirement in Forrest Beach, for him to act as an additional proof-reader.
Given Elsie's attention to detail I doubt whether there was a lot that Ian had to correct. His involvement was, however, an important fail-safe and it was typical of Elsie that she had identified the need – and found someone who could meet it.
In short, without Elsie "Crossed Boomerangs", in its final published form, would never have seen the light of day. For that, the Battalion owes her a great debt of gratitude ‒ second only to the debt we owe Bob – for ensuring that its history was formally recorded in a permanent form that will be accessible to future generations.
But that is not the only debt that we owe Elsie. One of Bob's signature achievements was the formation of the 31st Battalion Association which he instigated in 1976 and of which he was the inaugural President, continuing in that role until right up until his death.
Bob might have been the President but it was very much a double act. Elsie was always there to support him, attending all of the functions and being very much a part of whatever the Association did. After Bob's death she continued her involvement and, until recent years, was a regular attendee, in particular, at reunion dinners and, with her niece Leigh Cristaldi, at the Annual church service. For her dedication she was, very deservedly, made a life member of the Association in1997.
Elsie, you will be greatly missed, not only by your family but by all those who were privileged to be a part of your life. May you rest in peace.
…ooo…