Association Member Tim Lewis has passed on the following reminiscences from Alf Cumberland. Alf has been regularly in attendance at our small commemoration service at the 2/31st Battalion Memorial in Southbank just prior to the main march through Brisbane each Anzac Day. At 101 years of age Alf is still going strong, one of a dwindling number of 2/31 Battalion members. Tim takes up the story:
Alex Swann ( nee Henderson ) and I spent a couple of hours with Alf recently. Alf was in fine form and told us a couple of " never been told before stories ." Now I could be corrected on the details , however, the first one went something like this :-
Alf was at a Staging camp in 1942, either in Petrie or Oonoomba in Townsville and was getting a bit toey to help in PNG. He was a Corporal at the time and they were calling for six hundred private soldier volunteers. Now he knew that one of the privates was incapacitated, in hospital and would not make the roll call. So, as you do, when his name was called Alf was the man. Everything was going swimmingly until he stepped up to the man with the clipboard at the top of the gang plank. The private's name had been crossed of the list. "So who are you?"asked the clipboard man. "Cpl Cumberland, Sgt" came the reply. "Stand over there," he was told, "I'll deal with you later." In no time all troops were on board and were leaning over the ship's railing to see what was going to occur. "Now, what's you story Corporal?" "Well I just want to get over there and help out." says Alf. So, after a bit of argy bargy came the executive decision —- "Alright , up you go."
And so it was that Cpl Alfred Herbert Cumberland became a valued member of the 2/31st Infantry Battalion
Tim Lewis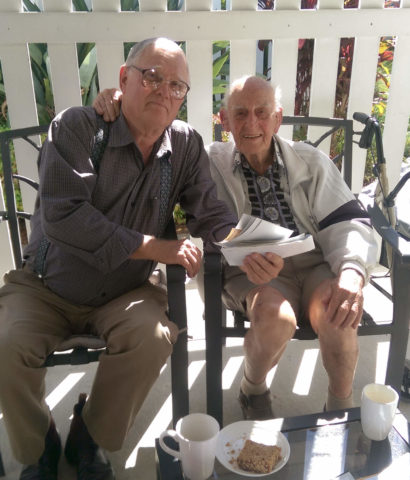 Tim and Alf go over old wartime photos and stories.
Tim's Father Lt Aub Lewis was a member of 2/31st Battalion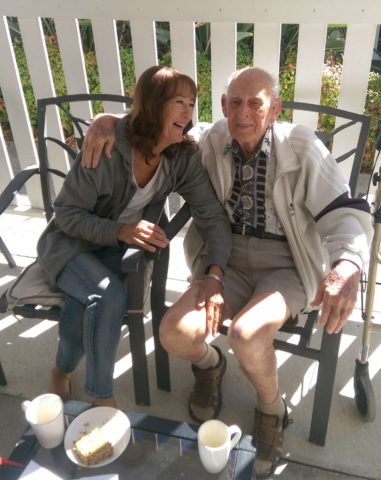 Alex Swann (nee Henderson) enjoys a morning tea with Alf.
Alex's Father was also a member of 2/31st Battalion.