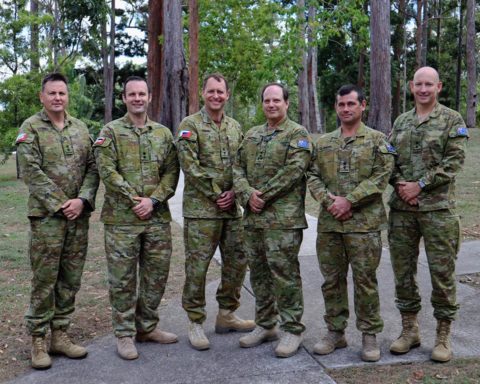 11 Bde Commander with his Commanding Officers and key personnel
An Unclassified Notice from Maj Ian Reid Executive Offr/2IC 31/42 RQR advises the following:
It is with much pleasure that I am able to announce that WEF 1 September 2018, BRIG Bruce Andrew Robert Scott (RETD) has been appointed as the Colonel Commandant of the Royal Queensland Regiment.
All written correspondence for the Colonel Commandant should be addressed to;
The Honorary Colonel Commandant
The Royal Queensland Regiment
BRIG Bruce Scott (RETD)
C/- Chief of Staff 11 Bde
Passchendaele Lines
Lavarack Barracks
TOWNSVILLE MILPO QLD 4813
Kind Regards,
Ian A. Reid
Major
The association has been advised by Maj Ian Reid, Executive Offr/ 2IC of 31/42 RQR that as of the end of 2018,  LTCOL Keith Potter and WO1 Robert Maitland, have now completed their tenure as CO and RSM 31/42 RqR respectfully.
The incoming CO will be LTCOL Damien Green, with WO1 John Stafford appointed as the Battalion RSM.
Points of contact remain unchanged;
Postal:
The Commanding Officer 31st/42nd Battalion
The Royal Queensland Regiment
LTCOL Damien Green
HQ 31/42 RQR
Passchendaele Lines
Lavarack Barracks
TOWNSVILLE MILPOL QLD 4813
Desk – 61 7 4411 1046
Postal:
The Regimental Sergeant Major 31st/42nd Battalion
The Royal Queensland Regiment
WO1 John Stafford
HQ 31/42 RQR
Passchendaele Lines
Lavarack Barracks
TOWNSVILLE MILPO QLD 4813
Desk – 61 7 4411 1021