Members will be pleased to hear that honorary Member of the 31st Battalion Association, Pierre Seillier, has been awarded an Honorary OAM for his services to Australian Service and ex-Service personnel and ex-Service Associations. The award was reported in the the Locyer and Somerset Independent newspaper 8 Mar 2023.
Our Association has had a close connection with Pierre over many years particularly in connection with the recovery, identification and re-interment of the missing soldiers from the 1916 battle of Fromelles. Pierre has produced high quality plaques of many members of the 31st Battalion from that battle and many other battalion members who have passed away subsequently.
The Somerset Independent News report is reproduced below under the headline:
"RSL's Efforts Get Recognition for French Comrade with OAM "
Thanks to he work and perserverence of members of the Laidley RSL Sub Branch, a French Citizen has been awarded an honorary Order of Australia Medal. Laidley RSL Sub Branch President Tom Barton said Pierre Seillier of Fromelles in Northern France was well known to many Australian ex-service organisations and individuals.
"His mission in life is to honour the Australian troops who traveled to places far from home, just to fight for his countrymen during the First World War" Mr Barton said.
He now devotes his time to researching the details of soldiers who lie in graves in that foreign land. For many years Mr Seillier has contributed to RSL Branches throughout Australia by providing excellent artwork for their Anzac and Remembrance Days orders of service.
"He has been granted honorary membershipp of many Australian ex-service organisations, including honorary membership of the Rats of Tobruk Association" Mr Barton said.
At the Laidley Sub Branch, he is regarded almost as a personal friend, one who can be relied upon when they are seeking his services for a design or artwork to advertise a particular occasion.
"Laidley Sub Branch pays tribute to our member Jim Nicholls for his initiative in taking on this project and for sticking with it over the three year period it took to bring it to fruition" Mr Barton said.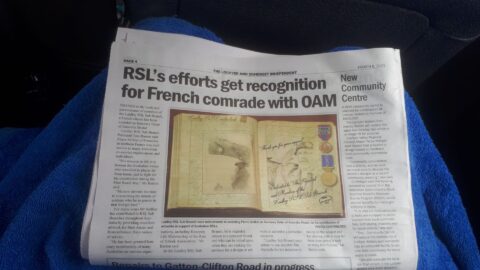 –