The following interesting news item was researched by Association member Mick James:
I've recently come across an Obituary of one of the earliest and long serving Kennedy Regiment soldiers. I also attach a photo of Kennedy Regiment Officers from 1905 that includes him. The photo is from Bob Burla's book, "Crossed Boomerangs".
TOWNSVILLE DAILY BULLETIN Thurs 23 April 1936
THE LATE MAJOR S. A. NOTTINGHAM, V.D.
(By One of the Old Brigade.)
Once again the call has come, and our old friend Major S. A. (Arthur) Nottingham has answered the roll call. He has gone to his rest leaving a great example to those who follow on an outstanding example In civil life as exemplified in his long service, some 40 years, with Messrs Burns, Philp and Co., Ltd., attentive, punctual loyal, obliging and straight forward with junior and senior alike, and during the many years he stood out as a distinctive personality in the execution of his duties.
The late Major Nottingham was born at Chiselhurst In Kent, England, on 23rd June, 1851. arriving in Australia and settling In Mackay in 1878, where he resided for some years, incidentally Madame Melba, contemporary with him, living next door.
He spared no time In joining the Kennedy Infantry Regiment, a company of which was established there under the command of Captain, later Lt-Col. W. G. Hodges, rising to the rank of Color Sergeant. He came to Townsville In 1889, transferring to 'B' Company in Townsville. Captain Caldersmith in command, Lt. Ben. Marsland and Lt. Fred. Willmett being the subalterns of the Company. He was promoted to Quarter Master Sergeant of the Regiment, headquarters at Charters Towers, 21st May. 1892. At the encampment held at Kissing Point in 1912, the deceased was presented, on parade, with the long service medal (Victoria Decoration) (Note; I think it was the Volunteer Decoration); he attended the camp In 1913 with the rank of Hon. Major on the unattached list.
The brief reference I desire to make to his memory is more particularly associated with his military services, with the old (Kennedy) 3rd Infantry Regiment of which he was Quarter Master and in which capacity I knew him for a great many years in the military camps held In those days at Kissing Point, consisting of the several units in training In North Queensland, Garrison Artillery, Light Horse, Infantry, A.M.C., etc., reaching in numbers over 1000 strong, the late Major Nottingham acting as Quarter Master for the whole camp, no light responsibility.
I think he was always the last to bed at night and the first up in the morning. When, as officer of the day, my duty taking me down in the early morning to the issue of supplies to the various units. I would find him active with his hurricane lamp in hand, it was before daylight arranging for the issue. Being Quarter Master of the stationary camp he did not always go out with the troops for drill and exercise, but for inspection or for a review and march past of those days he neglected nothing of his uniform, of which he was particularly; proud and, with his magnificent physique, he looked every inch a soldier and was much looked up to by everybody.
During the year it was a delight to him to attend at mess to which distinguished visitors were invited, to meet the officers and to indulge with the others in reminiscence. They were happy days officers and men were one, volunteers In the service of which we were proud, striving for efficiency and building up the nucleus of a force which, during the Great War, earned the reputation of being the best shock troops in the world. The younger ones are now called to take our place and the demands upon them will far exceed the threatenings of the past. May they use their opportunities and be ready when the occasion calls.
A military record of 33 years honorable service in Queensland as detailed as under: Col. Sgt. F. Coy; Mackay, from 1/1/'81 till 30/6/'89; Col. Sgt. B. Coy., Townsvllle, from, 30/10/'89 till 21/5/'92; Q.M.S. K.I.R Townsville. from 21/5/'92 till 24/9/1900; Lt. K.I.R., Townsvllle, from 24/9/1900 till 27/7/1908; Capt. K.I.R., Townsvllle; from 28/7/1908 till 30/10/1908; U.L.Q.M. and Captain, Townsvllle, from 30/10/ 1908 till 30/3/1912; Hon. Major from 30/6/1913.
A good swimmer, the late Major Nottingham saved at least half a dozen lives during his life.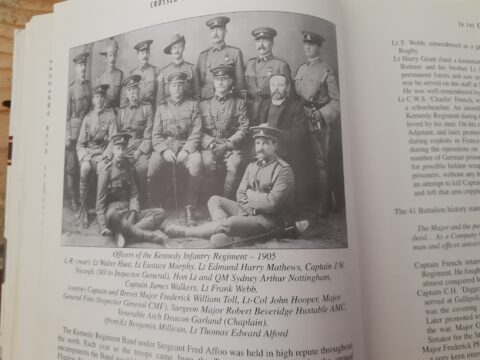 —ooo—