Emails were received from Tony Wadeson Association Secretary (Brisbane Branch).
  6/7/2023
Members, I refer to the email (below) from John Tannock President of 2/25th Bn Association, advising of the passing of Member Darryl Somerville.
Darryl was the son of – CPL Ray Somerville 2/31st Bn who was – WIA – 27/11/42 at Gorari in New Guinea.
RIP Darryl Somerville
A Funeral Service held on 7th July 2023 at 10.30AM at All Saints Anglican Church – 501 Hamilton Rd Chermside.
Tony
–
9/7/2023
Members, I refer to the above mentioned email regarding the Passing of our member Darryl Somerville. I wish to advise that Mick James attended the Funeral Service last Friday on behalf of the 31st Bn Assoc. & the Veterans, Families, & Friends of the 2/31st Bn. I have also forwarded a Condolence Card to Darryl's family on behalf of us all.
Darryl Somerville RIP
Regards TONY
–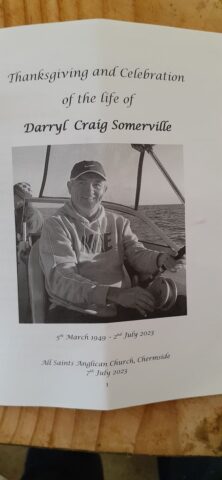 –
The following background to Darryl's story and that of his father( 2/31st Bn member) Roy  comes from  our  Association member Mick James:
Darryl was the son of a 2/31st Bn digger who visited Gorari on the Kokoda Track, where his father was wounded and others from 2/25th & 2/31st Bns were KIA during the battle of Oivi – Gorari (4 – 11 Nov 1942). In 2018 Darryl unveiled a Memorial with members of 2/25th Bn Assoc in honour of those who died.
Pte Roy Somerville served with 2/31st Battalion in the Middle East and New Guinea on the Kokoda Track. While on the Kokoda Track he was promoted Cpl & subsequently to A/Sgt on 1st Oct 1942. On 11th Nov 1942 Roy was wounded at Gorari, north of Kokoda, during the Battle of Oivi – Gorari where members of both 2/25thBn & 2/31st Bn were KIA. Roy was subsequently evacuated to Australia where he was later discharged.
–
Roy's son, Darryl, in honour of his father's service, travelled to Gorari with relatives of 2/25th Bn members on 11thNov 2017. They also returned in Nov 2018 and unveiled a monument in memory of the Battle and those who died there.
–
I met Darryl after his second trip to Gorari and he was very interested in the history of the 2/31st Bn. He subsequently attended an Anzac Service at the 2/31st Bn Memorial at South Bank and joined our 31st Infantry Battalion Association. I only learned of his death on Thursday and attended his funeral on Friday.
–
Darryl lived a full life and achieved much with his wife and 3 sons. He was Managing Partner of Accountants Coopers & Lybrands for 10 years until his retirement in 2005. From 2005 until 2011 he was Chairman of Brisbane Broncos Football Club and loved to remind friends & relatives that he was the last Chairman to win a Premiership.
–
The funeral was held at All Saints Anglican Church, Hamilton Rd Chermside, and was overflowing with mourners. The Church played a large role in the Somerville Family life. Darryl's father, Roy, helped build the Church, Darryl was baptised, confirmed and married there. There was much mirth during the Eulogy, given by his 3 sons, David, Paul & Craig, which Darryl had requested.
Rest In Peace, Darryl.
FUNERAL NOTICE
SOMERVILLE Darryl Craig
Aged 74 years.
Late of Everton Hills.
Passed away peacefully on 2nd July 2023.
Much loved husband of Elizabeth. Adored by his sons Craig, Paul and David, Daughter in-laws, Grand daughters and his entire family.
Relatives and friends are respectfully invited to attend Darryl's funeral service to be held at the All Saints Anglican Church, Chermside. Service commencing at 10.30am on Friday 7th July, 2023.
In lieu of flowers, relatives and friends are asked to please donate to Dementia Australia via their website.
ALEX GOW FUNERALS
–
Cliick on the Link Below for the ABC's story of the Oivi – Gorari Battle and the Monument.
Oivi – Gorari Battle and The Memorial
–
The following tribute is from 2/25th Bn Association John Tannock:
I have a number of issues to update everyone on, but I thought I would get a quick update out to advise of the passing of my good mate Darryl Somerville.
–
Many of you would remember Darrryl from our trips to Gorari, firstly to discuss the possibility of installing a monument with the villagers of Gorari and secondly for the unveiling of the monument. Our connection was that our fathers were both wounded in the Oivi/Gorari Battle near the village of Waju. In fact, we often used to muse about the similarities between the war experiences of our fathers ……… both were from the bush and joined up at the same time. Although they were in different battalions (2/25 th & 2/31st), the two battalion supported each other through the Middle East and New Guinea campaigns. Both were wounded at Waju in the Oivi/Gorari Battle, both spent several days lying on the floor of the Kokoda Hospital before being flown to Port Moresby. They were then transported back to Brisbane on the same ship before spending several months recuperating in the Warwick Hospital…….and both had devilishly good-looking sons (Daryl loved that bit).
–
I found Daryl to be great company with an infectious laugh and the ability to see the humour where others saw disaster. I remember one night in Gorari when a couple of dogs barked for hours on end. Everyone was lying in their tents unsuccessfully trying to sleep. Finally, around 3:30am, the dogs stopped barking. A collective sigh of relief went around the tents until about a minute later when a rooster started crowing amongst the tents. Suddenly Daryl roared laughing with the laughter spreading around the whole camp.
–
Through the project to erect the monument at Gorari, Daryl was my go-to person when I needed advice. He advice was always practical and full of commonsense……….and we would have a lot of laughs at the same time.
–
From John Tannock: