Member Mick James has dug up the following story containing details of one of the 1st Reinforcements for 31st Battalion:
–
STILL, Lieutenant George Alfred MC
Posted May 17, 2017 by Admin
Lieutenant George Alfred Still MC
31st Battalion, AIF
by Robert Simpson
–
George Alfred Still was born in Reigate, Surrey, England on 4th January 1883 at Montpelier Villa, London Road, Red Hill. His father was listed as a schoolmaster. He was one of eight children to George Ewers Still and Lucy Arnold. George and Lucy were married on 28th December 1880 at West Brompton. In the 1881 census George was living at Hove in Sussex with his parents and Lucy was with her parents in London. He was a graduate of St. Mark's College. George was listed as a School Master and Lucy was a Fancy Goods Assistant, working in the fancy goods trade with her father and siblings. Their first child Sarah was born in late 1881. George Alfred was the second child. He had 3 brothers and 4 sisters.
–
In July 1884, the four of them departed Liverpool for Brisbane on the Nevasa, arriving there on the 8th of September. George was one of a batch of teachers brought out from England by the Queensland Government. He took up a position as headmaster of Newtown School in Maryborough (now Maryborough West State School). After arriving in Queensland the rest of the children were born from 1885 to 1901. A younger brother, Kenneth Victor, who was born in 1893, died in Maryborough and was buried in the cemetery there in 1895. In 1895, at the end of year breakup, the headmaster George Still gave a report which included "that Haidee Sunners and George Still obtained Grammar School Scholarships at the last examination, the latter not being twelve years old at the time." In 1898 a list of passes of the Maryborough candidates for the Junior Public Examinations for the University of Sydney were published and included George, who matriculated with English A, French C, Latin C, Greek B, arithmetic B and algebra B. The youngest brother and family member, Victor, was born in Maryborough in 1897.
The 1903 Electoral Roll shows they were living at Ariadne Street in Maryborough and George Ewers was a Schoolmaster. In December 1905 the Maryborough Chronicle reported the breakup at Maryborough West State School and that that "was the twentieth and last at which Mr. Still would preside." An address was read to him from the staff and children and he was presented with a parting gift. The family relocated to Boonah where he was a school teacher and they were still there in 1908 and by the 1913 Electoral Roll. He was head teacher of the Boonah State School and then Brassall State School.
–
By 1905 George Alfred Still had started working and on the 1st October, he was appointed as a Draftsman in the Survey office of the Department of Public Lands. On 26th March 1908 he married Maggie Gilles Smith Gibson in Queensland. Maggie had been born in Queensland on 20th April 1883, a daughter to Andrew Gibson and Margaret Smith. By the 1905 Electoral Roll she was living with a sister in Kelvin Grove Road Brisbane and was doing domestic duties. In the 1908 Electoral Roll they were at Simpson Road, West Paddington, Brisbane and he was listed as a surveyor. On 23rd February 1912 he was listed in the Queensland Gazette as a Professional Class IV, in the Survey Office, Department of Public Lands. The 1913 Roll has them living at Fernberg Road, West Paddington with his occupation as surveyor.
–
On 27th May 1915 George attested with the 31st Battalion in Brisbane. The 31st Battalion was raised at Enogerra in Brisbane as part of the 8th Brigade in August 1915. He then applied for a Commission on 20th August, as he qualified at an examination for first appointment as 2nd Lieutenant. He was appointed to the AIF on the 30th. His educational qualifications were listed as Grammar School, Public Service Examination and Sydney University Junior, Matriculation and Senior Examinations. He requested that 10 shillings per day was to go to his wife on 29th September, which Maggie signed for.
–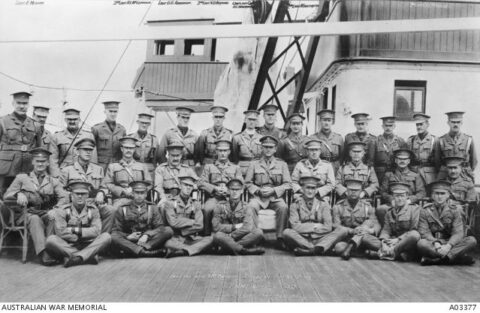 Group portrait of officers of the 31st Battalion, on board A62 HMAT Wandilla enroute to Egypt. From left, Front row: 2nd Lt George Alfred Still from Brisbane (later awarded MC).
On 5th November 1915, the 31st Battalion (1st Reinforcements) embarked on HMAT Bakara A41 in Melbourne. On the Nominal Roll, George was listed as a Lieutenant of 32 years old, a surveyor of address "Nowra", Upper Fernberg Road, Ithaca, Brisbane. Oddly his wife's address is given as Simpson's Rd, Upper Paddington in Brisbane. His religion was listed as Presbyterian and he was a British subject. The description of his present civil employment was given as computing draftsman and surveyor at the Survey Office Lands Department. His previous military experience was noted as 2 years' Field Artillery in Brisbane and 6 years Grammar School Cadets where he held the rank of Lieutenant. He was 5 foot 8.75 inches tall, weighed 156 pounds, had a chest measurement of 36.5 to 38.5 inches, and was of fair complexion with blue eyes and fair hair. His vision was 6/6 and 6/12 and had 2 vaccination marks on the right arm and a mole on the right shoulder. His term of service was for the duration of the war and 4 months.
They disembarked at Suez on 7th December 1915. On 2nd March 1916, he was posted to B Company at Tel-el-Kebir and was promoted to Lieutenant on the 21st.
–
The Battalion embarked at Alexandria to join the BEF on the Honorata on 16th June 1916 and disembarked at Marseilles on the 23rd. George was placed as Intelligence Officer under Lieutenant-Colonel Fred Toll, the Commanding Officer of the Battalion and worked closely with him. Prior to the attack, George and other observers gathered information and were praised by Toll who said the "men of this party also deserve praise for their untiring efforts and constant vigilance throughout the period 6th to 19th July." The 31st Battalion fought its first major battle at Fromelles on 19th July 1916. The assault had been postponed from the 17th, but even then the Battalion had suffer casualties due to enemy shelling. After a 7 hour artillery bombardment, which was ineffective, the attack was mown down by the German machine-gunners with severe losses. After the first two waves were sent off and mauled, Toll, realising the futility of the attack, and George (who had been buried by an artillery shell before the attack) led the third and fourth waves. Some German trenches were taken, but were lost due to no support and fierce counter-attacks. With Lieutenant-Colonel Toll, George had much difficulty in holding the troops, who had seen another Battalion withdraw and began to go back across No-Man's Land. In his notes on Fromelles, C. E. W. Bean writes "Toll, at 5.45, finding himself alone with Lt. Still and Cpl. Carew, both seriously wounded, strode back across No-Man's Land, practically the last of his brigade." Both flanks had been broken and they returned to the original front lines, with very heavy casualties. 544 men of the 31st Battalion were casualties. The 5th Division had over 5000 casualties.
–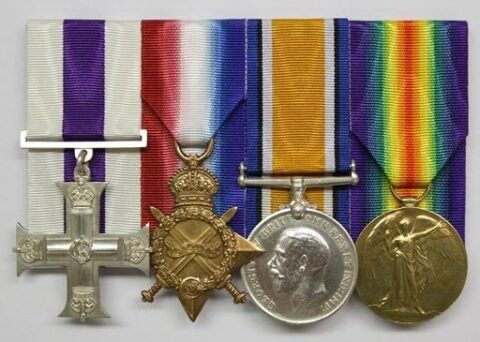 Medals of Lt George Still (Military Cross, 1914-15 Star, British War and Victory Medals).
George was placed on the seconded list as evacuated sick on the 24th July. On 30th July 1916 George was sent from the 30th General Hospital at Calais to England with debility and eye strain (severe) on the HS Brighton. When Lieutenant-Colonel Toll wrote up the War Diary, he nominated twenty Officers and men for distinction in order of merit, with Lieutenant Still being the first name on the list and his name underlined for special consideration. Toll wrote "Lieut. G. A. STILL For gallantry in organising straggling troops and advancing over open country in rear of enemy's position, also for keeping up communications with Brigade Headq. by means of pigeons, and later runners, and in German main breastworks during the night, assisted in consolidating positions won, and generally devotion to duty." Army Form W 3121 has George listed in an immediate award list on 3rd August with the entry reading "At PETILLION on 19th/20th July 1916, displayed gallantry in organising straggling troops and advancing over open country in rear of enemies positions, also in keeping up communication with Brigade Headquarters by means of pigeons and later runners. When in the German main breastworks during the night assisted in consolidating the position won and displayed most praiseworthy devotion to duty." It was stamped awarded M.C. on 28th August. On 31st August 1916 he was awarded the Military Cross in France. It was gazetted in the London Gazette on 26th September 1916 page 9436. The entry reads: – "For conspicuous gallantry in action. He rallied and organised straggling troops, and led them on over open country. During the night, in the enemy's main breastwork, he ably assisted in consolidating the position won."
–
He was the only Queensland officer to be awarded the Military Cross for that battle, the only other one that was awarded to the 31st Battalion was to 2nd Lieutenant L J Trounson from Maryborough Victoria. On 20th September 1916 he was discharged from Brook War Hospital at Woolwich. He was placed on the supernumerary list on 24th October. George was marched in at Weymouth on 26th January 1917, marched out for embarkation to Australia on 10th February and was struck off strength on 13th February. He returned to Australia on HT Ulysses at Plymouth on 13th February. His record originally said gunshot wound to chest and arm, which were crossed out, and then recorded as shell shock and amblyopia of the left eye. In his reference, Bean mentions that George lost sight in one eye, but that is not confirmed in his records.
George was marched in to the Number 2 Command Depot. He was discharged in Queensland on 22nd June 1917. In his statement of service form, Maggie's original address was given as "Matea" Karella Rd Cremorne Sydney NSW, which was crossed out with the Simpson's Road address added. He was added to the Reserve of Officers list on 1st July 1920 as a Lieutenant.
–
From the 1925 to 1943 Electoral Rolls they were living in Flaxton, a tiny village near Nambour and he was an orchardist; very much a change in his occupation. By 1925 his father had retired and was living in Ipswich. He was appointed a returning officer for Fassifern and Bremer electorates. He was admitted to the Ipswich General Hospital in June 1934. George Ewers Still passed away on 20th October 1934 in Queensland. An obituary stated he was head teacher at Maryborough West State School for 20 years, 11 years at Boonah and 8 at Brassall and retired in 1925. He was also a member of the Maryborough and Ipswich District Teachers' Associations. On 6th November 1947 Lucy (his mother) passed away at Rosalie and was privately cremated. In the 1949 roll they had retired to Tugun on the Gold Coast. They shifted again and by the 1954 Electoral Roll they were living on the corner of North and Bayview Roads at number 121 North Street at Brighton, and were still there in the 1958 Roll. He was still retired. The 1963 roll finds both of them in a retirement village called Iona at Brookfield Road Kenmore, in Brisbane. Maggie passed away on 2nd December 1964 and George passed away in 1968. They had no children.
–
One of George's younger brothers, Victor, also served in WW1. Victor was an engine fitter from Boonah. He enlisted as Private 2674 in the 9th Battalion on 26th May 1915, was transferred to the 49th Battalion on 2nd April 1917 in France and was wounded in 1917 with a severe gunshot wound of the back. He was admitted to hospital and died of wounds on 29th October 1917 at 5.25 am. Victor is buried in Mont Houn Military Cemetery, grave number 663B.
A sister, Lucy Elizabeth, married John Mitchell Norris in 1912. John served in WW1 as Sapper 22312 in the Field Company Engineers, but did not embark until March 1918. He returned to Australia in August 1919.
–
His youngest brother, Arnold born in 1901 in Maryborough, became a Police Constable there. He served in a few places in Queensland, rising to the rank of Senior Sergeant when he was in Brisbane. He passed away there in 1971. Arnold's son, Leonard Victor Still married Helen Martin Steel, whose brother, Robert Martin Steel, served in WW1 as Sapper 5423 in the Mining and Tunnelling Company. Robert was born in Scotland, was a miner and migrated to Queensland in 1911. His son, James Robert Steel born in 1922 in Ipswich, served in WW2 as Leading Aircraftman 426006 in 114 Air Sea Rescue Flight.
LEST WE FORGET
Refer http://www.anzac-biographies.com/…/still-lieutenant…/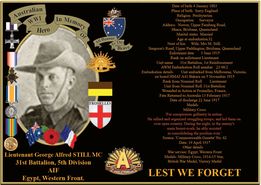 –