Yesterday (9th March 2021) the 31st Infantry Battalion Association (Brisbane Branch) Ltd held its 2021 AGM at Corinda Tavern. We welcomed guests including Association President, Col. Greg Stokie (Ret'd) from Townsville, members of 49th Bn Assoc and Elizabeth & Lindsay Timms from the 2/31st Bn descendants group. Additionally we welcomed a new member David McMaugh, whose father, Bruce McMaugh, served in the 2/31st Battalion in England in 1940 through to Balikpapan in late 1945. David also served in various Units in both the Reserve and Full Time Army.
–
One of Greg Stokie's pleasant tasks at the AGM was to present Brisbane President, Ray Fogg with Life Membership of the Association. This had been approved last year, but for many reasons including COVID-19, the presentation had been delayed until now. As the Tribute notes, Ray served with both the 31st and 51st Battalions and was awarded the Efficiency Decoration. He instigated the formation and approval of a Brisbane Branch of the Association and has been its only President over 17 years.
–
During this time the Brisbane Branch has been very active. Since its formation, the Brisbane Branch has marched in most ANZAC Day Marches through the city. We have attended the 2017,18,& 19 2/31st Battalion ANZAC Day Commemorations at the Southbank Memorial. We coordinated with other Organisations and conducted Commemorations for Billy Sing DCM Croix de Guerre (Belgian) in 2012, 2013 & 2018. Additionally, in 2015 again with other organisations incl Kedron Wavell RSL, we arranged the construction and dedication of a Granite Plinth at Lutwyche Cemetery in honour of Billy Sing DCM Croix de Guerre (Belgian) with a Cwealth Govt Grant. Further, in 2019 & 2020 we organised and conducted, with assistance of Rosewood & Ipswich RSLs Commemorations of the Battle of Fromelles at the grave of Lt Arthur Adams DCM, who fought in the Battle.
–
The Brisbane Branch has also attended many of the yearly Commemorations of the Boer War conducted by Sherwood/I'pilly RSL and laid a wreath. The 31st Battalion AIF CO, Lt Col Fred Toll completed 2 tours to the Boer War. We also attended many of the Kokoda Day Commemorations also held by Sherwood/I'pilly RSL and laid wreaths on behalf of the 2/31st Bn and our Association. Ray has had support from many members but none so much as Secretary, Tony Wadeson, who has been Secretary since formation of the Branch.
–
Congratulations and well done, Ray Fogg
–
Also, we had a very interesting talk by our member, Lt Col Mick Byrne, who for a number of years has been a Liaison Officer with the Singapore Army during their extended Training at Shoalwater Bay Training Area and spoke about his role. Mick is in the photos with Greg and Ray.
Most office Bearers were re elected with Paul Bertini elected the new Treasurer.
Descriptions with each photo.
Life Membership Award to Brisbane Branch President by Association President Greg Stokie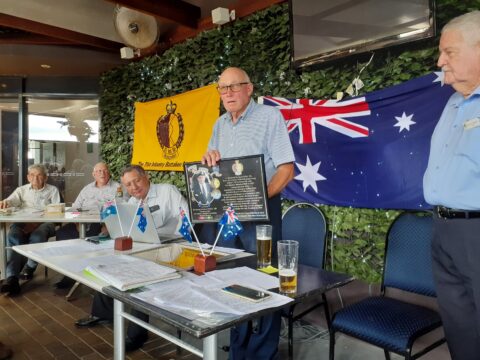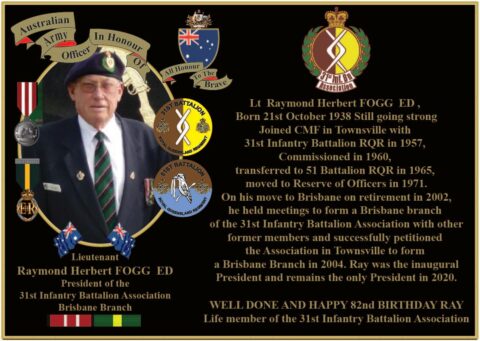 Tribute presented to Ray.
Tribute was produced by Association Honorary Member in France Pierre Seillier.
Below is a message from Tony Wadeson, Secretary of the Brisbane Branch of the Association fleshing out other aspects of the AGM:
Members, Our AGM meeting held on the 9th march at the Corinda Tavern was held with a total number of 26 Members & Guests attending the meeting & 23 remaining for lunch after the meeting. President Greg Stokie made a special trip down from Townsville to attend. We welcomed two new members David McMaugh (ex 9RQR & attachments to British Units) – the son of Lt Bruce McMaugh – WW2 veteran (one the Originals) of the 2/31st Bn. Also Elizabeth Timms daughter of WW2 Veteran of the 2/31st Bn – Jack (Strangler) Lewis. Also Evan Jenkins eldest son of WW2 Veteran of 2/31st Bn Sgt Albert Jenkins. Guests included our good friends from kindred Associations:-  Phil Ainsworth, President of NGVR/PNGVR, & 49 Bn Assoc. Members, Ray Davidson, Peter Grogan, & Ray Knight, & Lindsey Timms, Convener of the 2/31st Bn Relatives, & Friends Group

The Committee members re-elected unopposed – President Ray Fogg, Vice Pres. Colin Jackson, Secretary Tony Wadeson, & Committee members Mick James & George Stanger. Our inaugural Treasurer, Eugene Farrell, (who could not attend the meeting due to ill health) has decided to retire, from his post after 18 years of First Class service. President Ray thanked Eugene for his devoted & professional service over the years.  Paul Bertini, volunteered to take on the post & was elected accordingly.

As a Surprise to our President Ray Fogg, Association President Greg Stokie, presented Ray with Honorary Life Membership of the Association. Refer photos attached. Our French Honorary Life Member, Pierre Sellier, produced one his famous Tributes covering Ray's Military Service, also for presentation to Ray. Ray Fogg, started the Brisbane Branch by arranging a Meeting of Eight known ex 31st Bn Members at the Breakfast Creek Hotel in 2002. He has been the driving force behind the Brisbane branch ever since. The award was scheduled to be done prior to last Christmas but due Covid-19 Travel restrictions, it had to be rescheduled to the AGM. Ray received a rousing applause of appreciation from all those present.

Our very own, LTCOL Mick Byrne, ex CO of 42Bn RQR, was our Guest Speaker, providing a most interesting & informative insight on his association as a Liaison Officer with the Singapore Army during the past few years, during Exerciser's at Shoalwater Bay. It was an eye opener to say the least.

Regards Tony