Association member Mick James came across a photo on a Facebook page entitled "On This Day"
The explanatory preamble is as follows:
On 30th Sept. 1970, – Members of the Aust. Army Training Team Vietnam (AATTV) were presented with a – "United States Meritorious Unit Citation" for its outstanding performance in Vietnam.   For 5 Members of the Training Team this was a special Occasion as previously in 1951, whilst serving with 3rd Bn Royal Australian Regiment (3RAR), they received a United States – "Presidential Unit Citation" for holding & repelling an Overwhelming Force of the Chinese Army at the Battle of Kapyong. Thus saving the the Capital of Seoul from certain capture.
Brisbane Branch Association Secretary, Tony Wadeson, gives us a brief background:
The second Man from the Left in the Photo, – is our very own  – WO1 Ray "Dasher" Deed BEM, – quite a handsome bloke, who scrubbed up pretty well, for the occasion. Dasher has had a few Health issues of late,  but is still going strong at 93 Years, living at Corinda, & conveniently close to the Sherwood Services Club. He is still an active Member of the 31st Bn Assoc. Brisbane Branch. And as you can all appreciate, we are extremely honoured, to have such a distinguished soldier as our Member.  At one stage of his career, Dasher was a Regular WO2 Cadre Staff attached to 31st Bn Townsville, & later  the RSM of 51Bn – Cairns. After retirement as RSM Northern Command, Dasher was seconded by one of Brisbane's most prestigious Colleges – "The Anglican Church Grammer School – (Churchie), as a Disciplinary Master for many years. They still bring him back each year to Churchie for their ANZAC Day Service.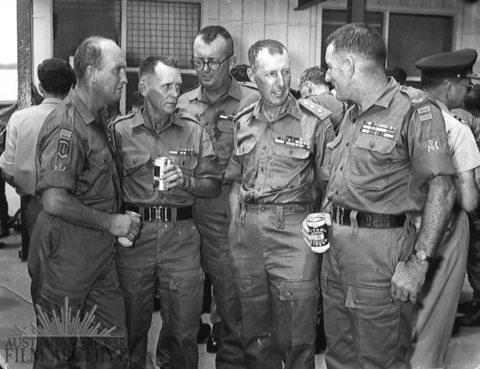 Mick continues the story:  On 30 September 1970 Five soldiers of the Australian Army Training Team Vietnam (AATTV) are now entitled to wear two United States Unit Citations. They are seen here enjoying a drink after being presented
at a parade. All were with the 3rd Battalion, The Royal Australian Regiment (3RAR), at the Battle 
of Kapyong where it won the United States Presidential Unit Citation which they wear above the Merit

orious Unit Citation presented to the Australian Army Training Team Vietnam (AATTV), at Vung Tau on 30 September.
Left to Right :-
Warrant Officer Class 1 (WO1) Brian Lawrance, 43, working in Quang
Tri;
WO1 Ray Deed, 43, Phuoc Tuy Province; 
WO1 Bill Eade, 44, Hue;  Captain Len Opie, 46, Phuoc Tuy Province, and WO1 Reg Bandy, 46, the Regimental Sergeant Major (RSM) of 7RAR at Nui Dat, who is drinking a can of Victoria Bitter (VB) beer.
Heroes all. Ray Deed was awarded a BEM (British Empire Medal) for his service in Korea as a Sgt Platoon Commander during the Battle of Kapyong. He finished his service as RSM of Northern Command. As his birthday is on ANZAC Day, he didn't celebrate in 1951 as he was still in the thick of the Battle of Kapyong, 22-25 April 1951.
(As an addendum Mick has pointed out:- The Presidential Citation was worn above the Meritorious award, & at that time it was worn on the sleeve at the shoulder, (refer Photo). Now its worn on Right Front Breast.)