Association Member Mick James, a regular contributor of articles for our website has provided this interesting piece of history:  –
 In line with one of the suggestions from the CO of 31st/42nd Battalion RQR, Lt Col Damien Green (see the previous post on this website and also 31st Battalion AIF Memorial Association Facebook page), in his ANZAC Day message, 
I offer this story on an original ANZAC. I have recently also posted it on Facebook page "100 Years of ANZAC".
He joined the Army in Perth (16th Inf Battalion) on  8th Sept 1914 and was promoted L/Cpl on 16th Oct. He trained on the Maxim Machine Gun with Harry Murray and they became firm friends. They initially trained at Blackboy Hill Camp outside Perth and then travelled to Broadmeadows in Melbourne where 2 Companies from South Australia joined them to complete their strength.
Percy shipped out with the 16th Battalion in late December 1914 and arrived in Egypt in early February 1915. After further training there they  landed at Gallipoli on 25th April 1915. He was awarded a DCM for his actions on 2nd/3rd May 15  . His citation reads –
"On the night of 2nd-3rd May, 1915, during operations near Gaba Tepe, for exceptional gallantry. After all his comrades in his machine-gun section had been killed or wounded, and although surrounded by the enemy, he fired all available ammunition and finally brought his gun out of action."
Harry Murray was with Percy and also was awarded a DCM. Harry Murray was promoted 2nd Lieut on 13 Aug 15 and transferred to 13th Battalion. Harry was still in the same Brigade as Percy (Brig Commander was Col. John Monash) and was involved in some of the same future Battles.
Percy was commissioned as a 2nd Lieut on 7th May and promoted Temp Capt  on 9th Aug 15 . He was made substantive Lieut on 1st Jan 16 and then  Capt on 20th Jan 1916. He returned from Gallipoli to Egypt at the end of 2015 and subsequently moved to France in June 2016 with 16th Battalion. Percy had been promoted to Major on 27th April 1916. So, after 1 year and 2 days in action Percy had risen from L/Cpl to Major. No doubt being awarded the DCM at Gallipoli played a part in his promotions. He was also mentioned in Despatches while at Gallipoli and again while on the Western Front.
He was in the Battles of Pozieres and Mouquet Farm.

At Mouquet Farm, which the Germans had turned into a fortress, Black and the 16th Battalion battled through dugouts and cellars. The Australians were unable to hold the fortress, a determined counter-attack threw the Australians back to their start lines. Black was wounded—shot in the neck—and the severity of wound required specialist treatment in London.
While recovering in the 4th General Hospital in London, Percy shared his ward with Albert Jacka who was recovering from wounds received at Pozieres, and his old mate, Harry Murray who was also wounded at Mouquet Farm. Both Harry and Percy subsequently received DSO awards for actions in which they received wounds that they were now recovering from. Percy also was awarded the French Coix de Guerre for actions at Pozieres and Mouquet Farm.  Percy rejoined his Battalion on 25th November 1916
.
Percy's DSO citation reads –
"Maj. Percy Black, Inf. For conspicuous gallantry during operations. He led his company over "No Man's Land" against an enemy's [
sic
] strong point, which he captured and consolidated under very difficult circumstances, and under heavy artillery and machine gun fire. On a subsequent occasion he did similar fine work."
Percy remained with the 16th Battalion and in April 1917 they were south east of Arras with the 4th Division AIF. 2 Brigades  (4th & 12th) were committed to the first Battle of Bullecourt together with the British 62nd Division to attack the strong German position. This description is from the Sir John Monash Centre –
The Battles of Bullecourt, on 11 April 1917 and 3 May 1917, involved huge losses and invoked a sense of distrust between Australian troops and British commanders.
Some of the heaviest criticism came from General John Monash who wrote:
'Our men are being put into the hottest fighting and are being sacrificed in hair-brained ventures, like Bullecourt and Passchendaele …'
In 1917, the village in northern France was heavily fortified by the Germans and absorbed into the Hindenburg Line, with machine guns, belts of barbed wire, and frontline trenches.
Australian commanders were apprehensive about the British level of planning for the attack, believing it would leave their men hemmed in and vulnerable on three sides. They were also concerned there was not enough ammunition for artillery, which was still an experimental technology.
The attack was planned for 10 April but the Australians did not proceed because their 12 tanks did not arrive on time.
Communication within the Allied forces broke down and the British 62nd Division began the attack as planned, but were not told until later that the Australians had been stood down. Nonetheless, the British managed to get through the first belt of entanglements and close to the Hindenburg Line.
The next day, the Australian troops were subjected to withering machine-gun fire, and nearly a third were killed or wounded.
They broke through the German line but at terrible cost, and they fought ferociously until – as suspected – they were hemmed in and forced to retreat.
In addition, the tanks failed to be a decisive breakthrough weapon and left many bitterly disappointed. Despite this, they had sown confusion and terror among many German defenders, with the German 124th Regiment record noting:
'The men in the trench stood there, defenceless, not knowing how they could beat the monster back. It was completely impossible to attack it from the trench …'
The 16th Battalion was one of the two 4th Brigade Battalions in the attacking waves and took the first line of German trenches. However they were ahead of the few remaining tanks . Before they breached the first line of trenches, Percy, leading his men on, is reputed to have said "Come on boys. Bugger the tanks".
The barbed wire in front of the second line of trenches was largely in tact and the attack had to file through the Sally Ports (gaps for movement between the trenches). It was at one of these where Maj Percy Black was reputedly shot in the head and killed instantly as depicted in the painting.
While Black was renowned for his courage, Murray claimed that "Percy never went berserk and never sought death" and "had all the fear of the unknown". He was described by the Australian war historian 
C. E. W Bean
 as "the greatest fighting soldier in the A.I.F.", while Murray, himself
a recipient of the 
Victoria Cross
, called Black "the bravest and coolest of all the brave men I know".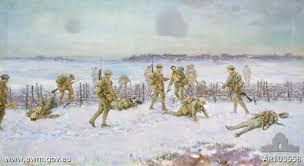 The 1923 painting "The Death of Major Black" by Charles Wheeler highlights the snow covered land on which they fought. It is held at the Australian War Memorial. The artist, Charles Wheeler is an interesting character himself. A New Zealander born in 1880, he developed his skill as a painter in Melbourne and held exhibitions until 1912 when he travelled to Europe. Based in London he travelled on the Continent and exhibited in Paris. Returning to London just prior to the outbreak of WW1 he joined the Royal Fusiliers  and was awarded a DCM in the Battle of Vimy Ridge in 1916 as a Sgt. He returned to Melbourne after WW1 and was one of Australia's distinguished Painters, winning a number of prizes including the 1933 Archibald Prize. He would have certainly experienced conditions such as he painted here.
As we approach ANZAC Day this year, we should pause and remember Percy Black, a brave Digger who landed at Gallipoli on 25th April 1915, fought with distinction for almost 2 years, and gave his life on 11th April 1917
Percy Black has no known grave. He is commemorated on the wall at the Villers-Bretonneux Memorial.
A group of researchers including Lambis Englezos  have been researching the location of Maj Percy Black's grave for more than a decade.
They have uncovered a statement of an Allied POW captured during the the Battle of Bullecourt on 11th April 1917 
who was forced by his captors to bury Allied bodies in mass graves in shell holes behind the German front line. While they 
emptied pockets, they didn't remove dogtags.
The group have done further research and believe they have located the grave. They have forwarded their research 
to the Australian Army's Unrecovered War Casualties Unit last year and await their response,
For those unaware, Lambis and a group of friends with various skills researched and discovered what they thought was a mass 
grave (5 pits each holding 50 bodies) dug by the Germans for Allied bodies KIA in German trenches during the Battle of Fromelles in July 1916.
They battled the Government and the Army from 2002 before any action was undertaken in 2007. Evidence was found early in the 
non invasive check of the ground and a full dig was authorised in 2008. The result was 250 soldiers' bodies were recovered in 2009  and were all 
buried, in the new War Cemetery "Pheasant Wood" at Fromelles with DNA taken, in 2010.
To date, 166 of those have been identified as Aussie diggers and now have named headstones.
Research into identification of those remaining unnamed continues. Lambis was awarded an "AM" in the 2009 Honours List for his efforts in 
discovering the missing diggers. Many of the graves of the 1900 odd Aussies who died in the battle remain unknown.