Members, The attached Tribute from our member in Fromelles, – Pierre Seillier, – His final for 2020, sums up the situation beautifully.

With reference below Pierre wishes us all a Happy New Year, in the Best Way he knows.  "Just Brilliant"   Tony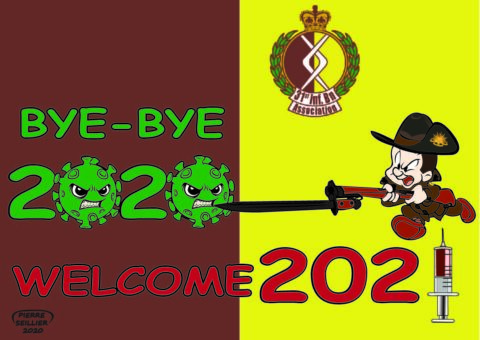 Hello my friends, I wish you a happy New Year, and I hope that 2021 will be better than 2020.
All the best to you and all members of the 31st Infantry Battalion Association.
Cheers.
Pierre.
Dear Pierre,

On behalf of  all of us 31st Bn blokes in Australia, I thank you most sincerely for all the Tributes you have prepared, & help provided to our Members. You are indeed  – True Blue.

Unfortunately this past year has been a disaster for travelling and I can't see any Australian Tourists departing Australia any time soon. They are talking late 2021, but that will depend on the Success of the "Covid-19 Vaccines".  We do hope that things are going to improve for you all in France.

Pierre we all wish you & your family A very Merry Christmas & all the Best Wishes & Good Health for next year.  STAY SAFE PIERRE
Kindest Regards, from all of us – 31st Bn Assoc. (Brisbane)
-o-