VALE, –  KEN SELLARS.  –  Members & Friends, George Stanger has advised us of the passing of his life long friend, Charters Towers stalwart , & renowned Country Cricketer, & passed member of the 31st Bn – Kennedy Regt. & later member of the the Association (Brisbane Branch) – Ken Sellars.  Ken passed away on the night of Saturday 17th July. A family funeral was held at Mudgeerebah on Friday 23rd July.  Please refer to the attached "Brief" written by his close Friend – George Stanger.

Ken Sellars – Rest in Peace.   Tony
Vale Ken Sellars
Ken Sellars was born in Charters Towers on 25th November 1932. He attended both the Charters Towers, State Primary and Secondary Schools. Ken was a good sportsman but was always keen on Cricket. His batting skills came to the fore early, at a very young age, scoring 104 runs in a match between Boys Central & Richmond Hill primary schools.
In 1949 Ken started work as a clerk at the State aged Care Facility, – Eventide Homes in Charters Towers. He progressed to Manager of this Institution and finished his working life as Manager of the Brighton State Aged Care facility Brisbane.
Ken joined the Army Reserve (Then CMF) – The 31st Bn – Kennedy Regiment in 1950. He received his call up for National service, and attended the first intake at Wacol in 1951. He completed his National Service obligation with the 31st Bn achieving the Rank of Sergeant.
Kens proficiency with the cricket bat continued, and indeed grew significantly. After he left school, although only very young, he was a member of the Charters Towers First Eleven and became a fixture. He was selected in the – North Queensland Colts Team to play in Brisbane and scored a century (another 104) against a Brisbane side. Ken held every position on the Charters Towers Cricket Association Executive. He had a big hand in the establishment and conduct of the "Goldfield Ashes" said to be the biggest of its type in the world. (Still going today). Of course he also starred as a player and attained many awards. He and his brother Neal wrote a book about this competition, which was widely read. Many notable players, State and International have taken part in the in the Ashes. I recall a visit by Dougy Walters, which Ken related to me in great detail. Let's just say that Dougy enjoyed the visit very much
Ken married his wife Pam, and they had five sons, Glen, Geoffrey, Michael, Paul, and Nick. When Ken moved to Brisbane, he did a lot of volunteer work in the memorabilia section of the Queensland Cricket Association at Albion for quite a few years.
Ken joined the 31st Bn Association in Brisbane, but by then had moved to the Gold Coast to live, and this restricted his attendance to many of our functions.
Ken, had an enjoyable and fruitful life, and was well liked and respected by his friends.
Rest in Peace, my friend.
George Stanger.
–
(George and Ken, grew up and attended school together in Charters Towers, they did their National Service together in the first Intake 1951 & served in the 31st Bn in the early days. They were Life Long friends.)
–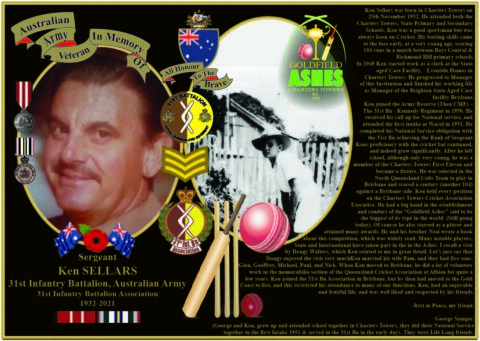 Tribute Plaque to Ken Sellars by Pierre Seillier
ooooo