31st/42nd Battalion The Royal Queensland Regiment
–
 On Saturday night 20th November 2021 the Kennedy Company of the 31st/42nd 

Battalion,  held a
 Regimental Dinner at Balgal Beach, some 50 klms north of Townsville. 
-
They invited members of the 31st Battalion Association from each of the branches, including 7
members from Brisbane. 
Members of the Brisbane Branch also gave a short talk on the Bllly Sing memorial that we
arranged in 2015 with a C'wealth Grant of $50,000 and with assistance of Kedron Wavell RSL, 
Chermside Historical Assoc, Chinese Assoc of Qld & Marchant Ward Councillor, Fiona Hammond.  
We also gave a handout on Billy's life and service, (see below). On Sunday some of the Brisbane 
members visited the Museum at Kissing Point 10 years on from from when the plinth was laid on the
125th Anniversary of the birth of the Battalion.



Unit Colours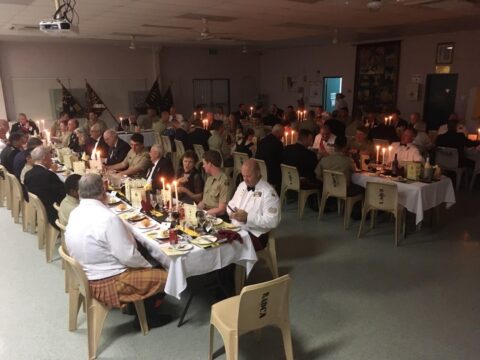 Regimental Dinner –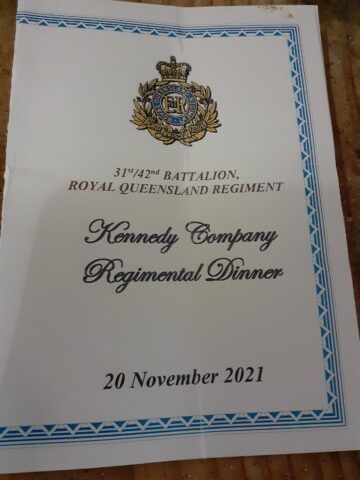 –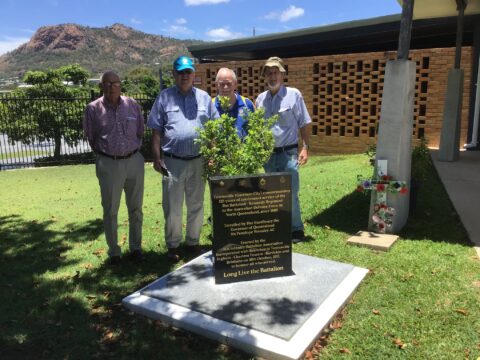 Brisbane Branch Members behind the Plinth dedicated on 125th Anniversary of the Foundation of the Kennedy -Regiment in 2011 –
–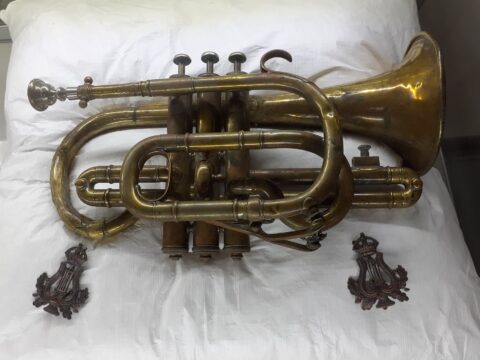 Members also visited the Museum. It was good to see the Cornet from the original 31st Battalion
donated by A J Cotton of Grandchester before the Battalion left Brisbane for Melbourne & then
to Egypt. Located,repaired & donated to the Battalion Assoc by Peter Nelson at the 125th
Anniversary Dinner in 2011 after being played at Fromelles for the burials in 2010.
–
–
The Brief on Billy Sing DCM MID Croix de Guerre-
– 31st Bn AIF – No 355 Trooper/Private W. E. (Billy) Sing DCM, MID, Croix de Guerre
The Gallipoli Sniper
Originally 5thLight Horse Regiment – Gallipoli – Transferred to 31st Bn – Western Front
Full Story Below:
–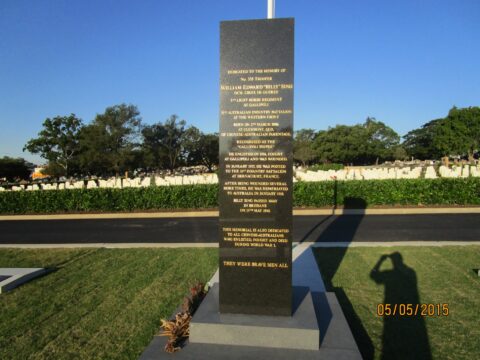 Billy Sing Memorial DCM Croix de Guerre Lutwyche Cemetery Brisbane Qld
–
EARLY YEARS William Edward "Billy SING" was born in Clermont Q'ld on 2nd March 1886. His father, John SING Drover, was born in Shanghai China. His mother Mary Ann (formally "Pugh") aged 30y, was born in Kingsford Staffordshire, England. Billy had an elder sister, "Mary Ann Elizabeth", who was born in 1863 just 2 months before Billy's parents were married. She died in childbirth in 1915. Billy also had a younger sister Beatrice SING born 1893. Beatrice later married a local Stockman, George Smith in 1917 & went onto have 4 Sons. – Billy's Mother, Mary Ann, was well educated & a trained Nurse. She ensured her children learned their lessons. The District Inspector of Schools, reported to Brisbane:- "The Children of Mrs. Sing a Chinaman's wife, invariably win school prizes for academic proficiency." The Inspector also stated: "The Sing children are bright, intelligent & well behaved, & thoroughly deserving of the honours achieved." Despite their good conduct, racism against the Sing family in Clermont was rife. – Billy left school around 1898 taking on many jobs in his early years on local Stations, droving both cattle & sheep & other odd jobs. He killed game for food from an early age with a .22 Rifle. He later joined the Clermont Rifle Club to improve his shooting. In 1910 he moved to Proserpine & played cricket for the district, & won prizes for shooting at the Proserpine Rifle Club. – The WAR 1914 – 1918
-
Billy joined up in October 1914 as a "Horse Driver" aged 28 years & his mother as NOK.
This would have been difficult for Billy, being, "of part Chinese descent", as he did not fit
the criteria to be acceptable into the AIF. It was said that Billy actually was examined by
the Doctor in Proserpine, who he would have known through Cricket, who passed him
medically fit (Racial grounds included). However he immediately rode to Bowen to enlist
as he was not known there to be of Chinese heritage. Billy made his way to Brisbane where
he joined the 5th Light Horse Regiment. They arrived in Egypt on 1st Feb 1915. After further
training was sent to Gallipoli as reinforcements in May 1915. Billy was known to be a crack
shot & was given the freedom to concentrate as a Sniper. Billy soon became notorious at
Gallipoli, and was feted by the Generals Bridges & Birdwood. When he was officially
credited 201 kills, General Birdwood, awarded him a DCM. It should be noted that Billy's
OC, Major Stephen Midgley, said it was really over 300 kills. However It was General Sir
Ian Hamilton who first recognised Billy by Mentioning him in Despatches. This was awarded
 just prior to being awarded the DCM.
-


Billy was evacuated wounded from Gallipoli in November 1915 and after recuperation in Egypt, posted
to the 31st Inf. Bn in Egypt in June 1916. But again due to illness, did not sail with them to France. He
was extremely lucky, as he missed their first major Battle/Slaughter at Fromelles, where the 31st Bn
suffered 572 casualties in less than 24 hours. Billy later sailed for England in August, where he spent
a further three months in a training Battalion. He sailed for France in late December, joining up with the
31st Bn at Dernancourt near Albert. He started up to the front line in Jan 1917 in the Delville Wood area.
He was wounded again in March, between Albert & Bapaume and shipped to Hospital in England.




Billy rejoined the 31st Bn in September 1917, just in time for 3rd Battle of Ypres at Polygon Wood in
which the 31st Bn took a major role. It was at Polygon Wood that COL Fred Toll, CO of 31st Bn
recommended Billy for an MM on 2nd Oct 1917.(this didn't eventuate) It was also at Polygon Wood
that Billy Sing was on a receiving end of a gas shell which provided him with a cough for the rest of his
life. Billy was again Mentioned in Despatches by 1 Anzac Corp. Commander General Birdwood. 
After being in and out of hospital on several occasions, he again returned to the Front with the 31st Bn
at Messines in mid Feb. 1918, where he was wounded for the third time. Whilst in Belgium Billy was
awarded the Belgian "Croix de Guerre" for conspicuous bravery leading an Anti Sniping Party, during
the Battle of Polygon Wood.


-


Billy Sing, a WW1 hero, died alone, & forgotten, on 19th May 1943, in a small Boarding house at 304
Montague Rd, South Brisbane. He had less than Five Shillings (50 cents) in cash & an old Miners Hut
worth $20 to his name. He was buried in a unmarked grave in the Military section at Lutwyche Cemetery.
Billy Sing, Australia's greatest Sniper, lay forgotten in this unmarked grave, in a corner of Lutwyche
Cemetery for 51 years until 1994, when four people, organised a Bronze Plaque, to mark his final
resting place. Without one of them, the late "Alby Smith," Billy Sing, might well have been completely
forgotten by Australia.


-


On the eve of Anzac Day 1993 an Article appeared in the Brisbane Courier Mail, written by Brian Tate,
an amateur Historian and part time journalist from Ballina. For several years Brian had been
corresponding with Alby Smith, an Arms expert, who had been collecting data on Billy Sing for 35 years.
Alby Smith worked as a Senior Technical Officer with 4 Armaments Engineering Unit in Melbourne. He
had developed a new Sniper rifle for the Army & unsuccessfully proposed it to be called the "Billy Sing"
Rifle.




-
A month after Brian Tate's article appeared in the Courier Mail, Don Cameron, a long serving Federal
member of Parliament, anonymously donated a Bronze Plaque, which was erected on the side of a
Carpet Warehouse, at 304 Montague Rd South Brisbane, where Billy Sing had died. Shortly after Don
Cameron & Alby Smith, travelled to Clermont, where they met Billy Sing's – Great Nephew, - Don Smith.
Together they organised Funds to be raised for a memorial to be erected in Clermont. A few months later
Don Cameron, Don Smith, Alby Smith & Brian Tate each contributed towards a fund to have a Bronze
Plaque placed on Billy's Grave.


-


Although Billy Sing made his name as the famous, "Gallipoli Sniper" whilst serving with the 5th Light
Horse Regiment in Gallipoli, he actually served most of his WW1 service with the 31st Battalion AIF
on the Western Front. Billy Sing's Medals are on display at the Australian War Memorial in Canberra.


-


On the 19th May 2012 members of the 31st Bn Assoc. Together with members of, - The Chinese
 Australian Historical Assoc., - Kedron Wavell Sub Branch RSL, - Chermside & District Historical Society,
& Councillor Fiona King held a Memorial Service at Billy Sing's Grave Site at Lutwyche Cemetery.
Don Cameron & Brian Tate, were both present. Guest Speaker was Major General Darryl Low Choy.
(Past Digger of 51 Bn Innisfail) Over sixty people were in attendance.


-


A year later, Ex Senator Bill O'Chee arranged for a submission for a Grant of $50,000 from the
Federal Governments Centenary of WW1, - Fund, which was subsequently approved. Ray Fogg,
President of the 31st Bn Assoc. (Brisbane Branch), led a Committee, to organise, design, &
construction of a fitting Memorial. Ray worked almost full time for months on the project. All credit
is due to his contribution. 

On the 19th May 2015 a magnificent Monument was dedicated near Billy
Sing's grave at a Parade of past members of the 31st Bn, - a Guard of 2/14th QMI - Historical Troop,
- members from the Chinese Australian Historical Assoc. Including interstate members, - Kedron
Wavell RSL Sub Branch Members, - Chermside & District Historical Society - and a large gathering
of VIP's, - special guests, politicians, and the general public. Don Cameron & Billy Sing's Great 
Nephew Don Smith from Clermont were present.


-


A fitting closure to a WW1 hero, who has been recognised as Australia's greatest Sniper, a man who
defied racial prejudice to serve his Country, and would have lain forgotten, had it not been for:-
Don Cameron, Alby Smith, Brian Tate, & great Nephew, Don Smith. And of course later by members
of Billy's old Unit, – The 31st Battalion, - Bill O'Chee, & the Chinese Aust. Historical Assoc, - Kedron
Wavell RSL Sub Branch, - Chermside & District Historical Society, & Brisbane City Councillor, Fiona King.




-
Tony Wadeson (Secretary 31st Bn Assoc. Brisbane) - 
Info:- Book "Gallipoli Sniper" by John Hamilton



-


Our Member Doug Hastie passed through Clermont on his way back to Brisbane from the
Regimental dinnerand stopped to take several pictures of the memorial to Billy Sing in the
local park:


-

Billy Sing DCM Croix de Guerre (Belgium) Memorial in Clermont Qld
-


Memorial at Clermont Qld
-

Memorial Clermont Qld
-

Memorial Clermont Qld
-

Memorial Park Clermont Qld
-