The Secretary of the Brisbane Branch of our 31st Bn Association, Tony Wadeson passes on the following sad news: Members – We have been advised of the passing of MajGen Mick Fairweather AM RFD who was previously a Commander of 11Bde. I met him when he used to attend the yearly 31st Bn Church Service's held in the "Rocks Area" Sydney
This is a Bio on the late MAJGEN Mick Fairweather. Mick James & Chris Hamilton have supplied the Info.  Mick was one of the old school who rose up through the Ranks & had experience of Command at all Levels from L/Cpl up. He Commanded 25th Bn RQR. Chris Hamilton has supplied the undermentioned Bio.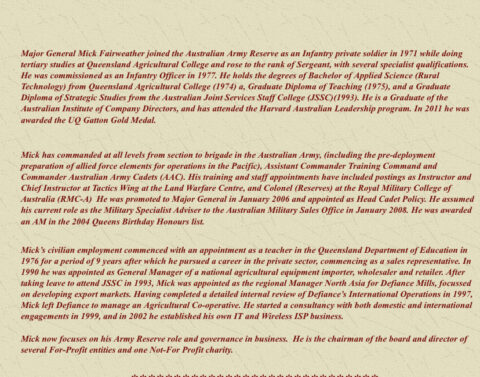 Notification was received from our 49 Bn Mate Garry Saunderson.   REGARDS TONY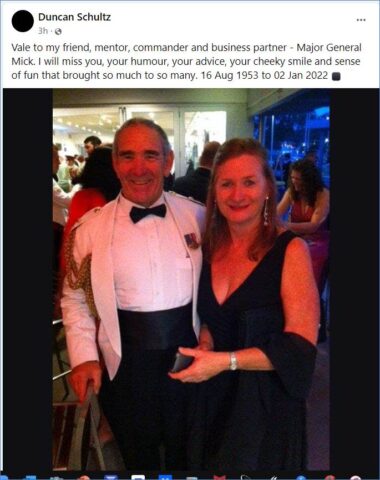 For those who aren't on Facebook (or who don't see posts from Duncan Schulz), the above is a post from Duncan Schulz
Tony continues: I did however receive the Poem reproduced below. It was passed onto me by our good mate Peter Grogan of 49 Bn & 25 Bn Associations.

You'll note the Poem was written in Sept 1990 by one – C. Hamilton, (Now Brigadier Chris Hamilton (Rtrd) & past CO of 31st Bn), who has given me the OK to resurrect his early Jottings.   
The CO's History (MAJGEN Ian Fairweather)
T'was Mick the Tick
From Gatton town
Who caught the Ares craze.
He gave up sport & drinking grog
And re-arranged his days
To put on greens & GP boots
A pack & webbing too
He headed off to QAC
To see what he could do.
They trained for wars that never came
It didn't worry Mick
He soldiered on & earned his pay
His mates they thought him thick
He should be here & drinking beer
Was heard about the town
But Mick the tick, he acted deaf
He was headed for a crown.
From course to course
He moved along the postings in between
From CPL Mick to SGT Mick
The wildest they had seen
He earned his pips he took the bit
No one could slow him down
The die was cast he headed fast
T'wards a pip beside that crown.
Was CAPT Mick – then MAJ Mick
He arrived up on the Downs
To join ye ken with the Mountain men
A Battalion of renown
So Company B soon came to be
The wariest of the mob
To awake poor old Roma at daylight on their jogs.
He went of then with Gentlemen
Of the other arms n corps
To do Tac 5 after he had survived
The trials of the Senior course
Said COL Lane "He's back again"
Promoted same as me
He'll have to do as Chief Moutain man 11
Lord knows who we'll get as 111.
So it came to pass when the high level brass
Write down 25th with their pen
As they dry their ink they pause to think
Of Mick & his Mountain Men.
Written on 27th September 1990 by a – C. Hamilton –(a Lost Poet)
who ended up as CO of 31st Bn on his way to be – BRIG Chris Hamilton.
(I believe it was about the time Mick took Command of 25 Bn)