The following information on Pte Thomas Bubbers has been compiled by Association Hon Life Member Peter Nelson.
Peter adds:  "I am doing some follow on research on 31st Bn members. Thought I could possibly share some of it somehow with members. Over coming months will post files of men in alphabetical groupings. These are and have been for a long time a 'work in progress' but may raise awareness of these men's stories. If any queries, tips or corrections feel free to contact me. My intention originally was to try and place a face to each name of men in alphabetical groupings.
Thomas Bubbers
Service No 495
Rank Pte
Born 9th May 1896, Newington, England
NoK (f) Mr Thomas Bubbers, (m) Martha (Hannah) Bubbers, 162 Commercial Rd, Spalding, Lincolnshire, England
Enlistment 13th Jul 1915 Cooroy, NC Line, Qld
Age 19
Status & Religion Single, C.of E.
Occupation Labourer
Address Cooroy, North Coast Line, Queensland
Outcome RTA 8th Apr 1919
Notes Migrated to Australia in 1911
Original, 'B' Coy / HQ Signaller, 31st Bn
Embarked at Melbourne, on HMAT A62 "WANDILLA", 9 Nov 1915.
Disembarked at Suez on 7th Dec 1915
Embarked to join BEF on HMT 'Hororata' at Alexandria on 16th Jun 1916
Disembarked at Marseilles on 23rd Jun 1916
WIA (GSW face) at Fromelles on 19th Jul 1916
Admitted 2nd CCS (GSW face) on 20th Jul 1916
Admitted 25th Gen Hospital (GSW face) on 21st Jul 1916
Discharged to Base Details on 25th Jul 1916
Transferred from Base Details, Boulogne to Etaples on 25th Jul 1916
Marched in to 5th ADBD, Etaples, ex wounded, on 26th Jul 1916
Proceeded to re-join unit ex 5th AIDBD, on 8th Aug 1916
Rejoined Battalion on 15th Aug 1916
On leave to England on 28th Nov 1916
Rejoined unit from leave on 13th Dec 1916
To hospital sick on 20th Jan 1917
Admitted 39th CCS (mumps) on 20th Jan 1917
To No 3 Amb Train on 21st Jan 1917
Admitted 11th Stat Hospital, Boulogne, on 21st Jan 1917
Transferred to 8th Stat Hospital, Wimereux, on 29th Jan 1917
Transferred to 1st Conv Depot, Boulogne on 9th Feb 1917
Discharged as fit to Base Depot, Boulogne, on 11th Feb 1917
Marched in to 5th AIDBD, Etaples, from hospital, on 18th Feb 1917
Marched out to unit on 24th Feb 1917
Rejoined unit on 26th Feb 1917
Battle of Polygon Wood 26th/27th Sep 1917
To UK on leave on 15th Dec 1917
Rejoined unit from leave on 31st Dec 1917
To 5th Div Signal School on 7th Jul 1918
Rejoined unit from School on 28th Jul 1917
Battle of Amiens – 8th Aug 1918
Awarded MM for actions: "On the 8/8/18, after the capture of the BLUE LINE this man acted as a linesman and did splendid work. He continued to work up and down the line for the next 48 hours, often under heavy fire. He showed great bravery and devotion to duty throughout the operation."
Battle of Hindenberg Line – Bellicourt, Joncourt, Nauroy
Appointed L/Cpl on 1st Nov 1918
On leave to UK on 27th Dec 1918
Admin HQ, London, leave 31st Dec 1918 to 14th Jan 1919
Rejoined unit ex leave to UK on 21st Jan 1919
Marched out to Base Depot for RTA on 24th Jan 1919
Marched out from AIBD, Havre to England (1915 Personnel) on 1st Feb 1919
Disembarked to Weymouth and marched in to No 4 Comm Depot on 1st Feb 1919
Granted leave from 5th Mar to 14th Mar 1919 with pay and subsistence of £3. Reason: Stud Tour
RTA per 'Trasos Montes' on 7th Apr 1919
Disembarked 27th May 1919
Discharged at Brisbane on 19th Jul 1919
Sister: Mrs C Stratigo, Athens Café, Mary St, Gympie, Queensland
After his discharge Bubbers went farming in Tolga in North Queensland and after World War II he worked in New Guinea. In 1948 he was a Senior Groundsman with Dept of Civil Aviation, Madang, PNG. Had his medals stolen in Cairns Qld, in Dec 1958, whilst on holiday from being a mining prospector in New Guinea.
He retired to 104 Nectarine St, Fruitgrove, 4113, in Southern Queensland in 1969.
Thomas Bubbers died 26th Jul 1970.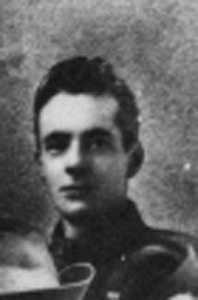 Thomas Bubbers MM
–