Association Member, and regular contributor Mick James reports that seven more diggers have been identified and as a result of the untiring efforts Lambis Englazos AM (Search this website –  Lambis Englezos AM – for the story of the missing 250 soldiers) will have newly named Headstones unveiled at the 107th Anniversary of the Battle of Fromelles to be held at the Pheasant Wood Military Cemetery at Fromelles on 19th July 2023. Special mention is made of No 1537 Pte Walter Allen GRACE who was a member of our own 31st Battalion.
Our Honorary Association member in France, Pierre Seillier has created the plaques shown below and has included information from the CWGC website on the location of the graves of 6 of the 7 new soldiers identified in the Fromelles Pheasant Wood Military Cemetery:
–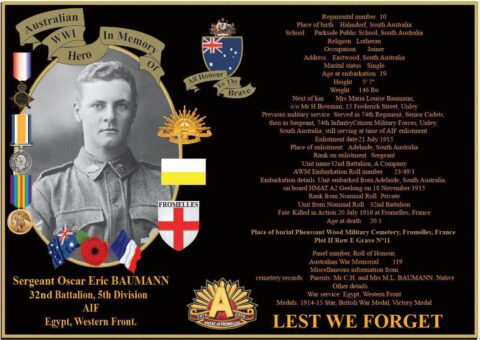 –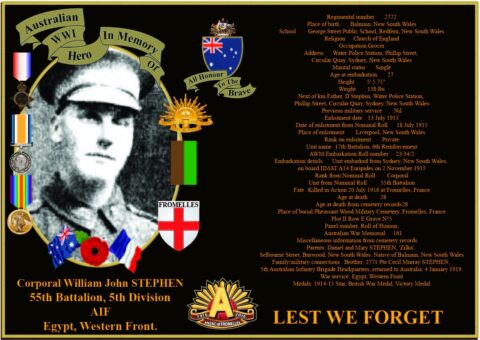 –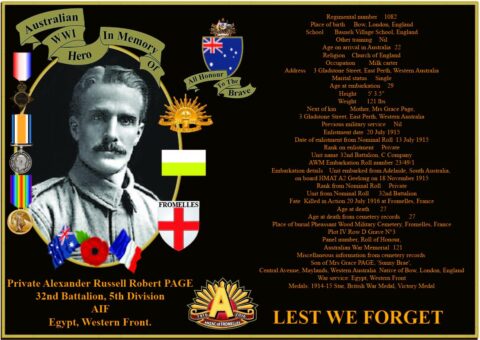 –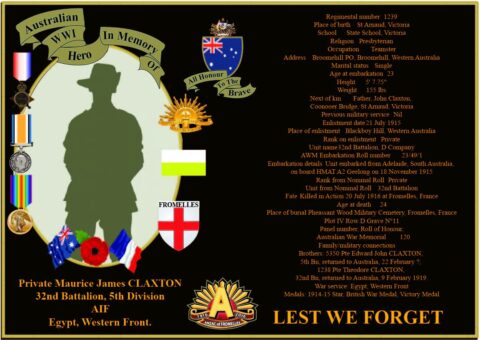 –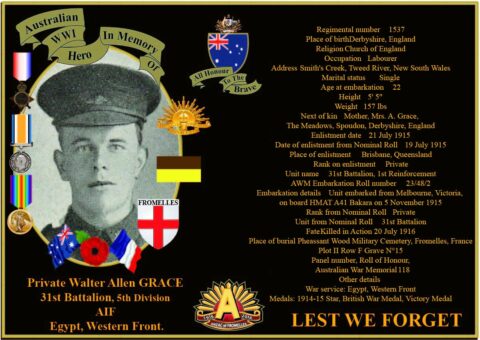 –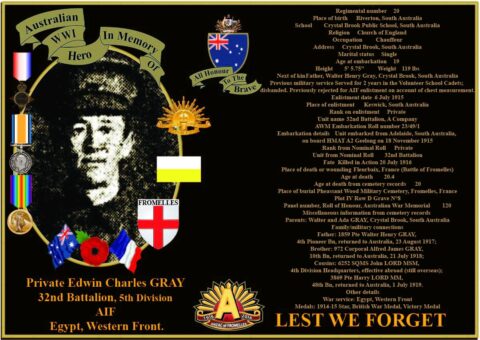 –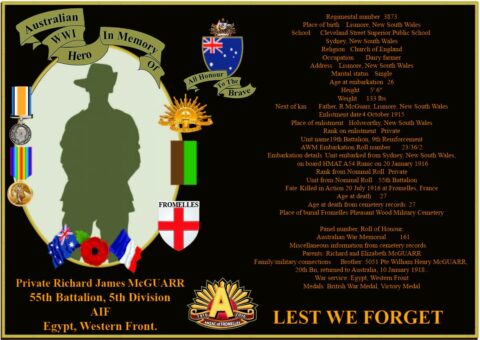 –
–
OSCAR ERIC BAUMANN Sergeant Service Number: 10 – 32nd Bn .II. E. 11
–
WILLIAM JOHN STEPHEN Corporal Service Number: 2772 – 55th Bn .II. E. 5
–
ALEXANDER RUSSELL ROBERT PAGE Private Service Number: 1082 – 32nd Bn .IV. D. 3
–
MAURICE JAMES CLAXTON PrivateService Number: 1239 – 32nd Bn .IV. D. 11
–
WALTER ALLEN GRACE PrivateService Number: 1537 – 31st Bn .II. F. 15
–
EDWIN CHARLES GRAY Private Service Number: 20 – 32nd Bn .IV. D. 8
–
RICHARD JAMES McGUARR Private Service Number: 3873 – 55th Bn
Richard McGuarr's information is yet to be updated and is still listed as commemorated in .V.C. CORNER AUSTRALIAN CEMETERY AND MEMORIAL, FROMELLES Panel 13.
LEST WE FORGET.
—