The following story of Pte Billy Sing was written by Association member and regular contributor, Mick James:
W E "Billy" Sing served in the 5th Light Horse Regiment in Egypt and at Gallipoli . He was famed as "The Gallipoli Sniper " HE was awarded a DCM for his efforts over 6 months on Gallipoli.
He later transferred to the 31st Battalion where he was awarded the Belgian Croix de Guerre at Polygon Wood.
This citation reads – "At Polygon Wood on 26-28th September 1917, after the capture of the final objective and notwithstanding a terrific bombardment by the enemy, this soldier volunteered to take out a fighting patrol to mop up snipers who were causing casualties. By his dash and success in dealing with these, our front line was secured and consolidation continued. During the whole operation his skill in picking out and dealing with snipers was uncanny".
He was born in Clermont in 1886 to an English mother and Chinese father and was shooting in the bush from a young age. He was in the Clermont Rifle Club and later, when working in Proserpine, was in that Rifle Club and played cricket there. He was wounded 3 times (including gassing) during his service and had other sickness (mumps) and his health suffered for the rest of his life. He returned to Proserpine after the War but was doing many different jobs, including mining around Clermont, before moving to Brisbane in the 1930s and doing various labouring jobs.
He died in a Boarding House at 304 Montague Rd South Brisbane on 19th May 1943 and was buried in an unmarked grave at Lutwyche Cemetery . After a story on his War Service in the Courier Mail on ANZAC Day eve in 1993, his grave was identified and a plaque placed on it at Lutwyche Cemetery.
The Brisbane branch of the 31st Battalion Association in conjunction with the Chinese Association, Chermside District Historical Association, and Kedron Wavell Services Club conducted 2 Memorial Services at his graveside from 2012 and then, in conjunction with those Groups, and with a Federal Government grant of $50,000, arranged the construction and dedication of a granite Memorial Column close to his grave. It was dedicated on 19th May 2015, the 72nd anniversary of Billy's death.
There are now 2 plaques at the address where Billy died (now a Commercial building). These photos are shown below.
On the 76th anniversary of Billy's death we remember his outstanding service in WW1.
LEST WE FORGET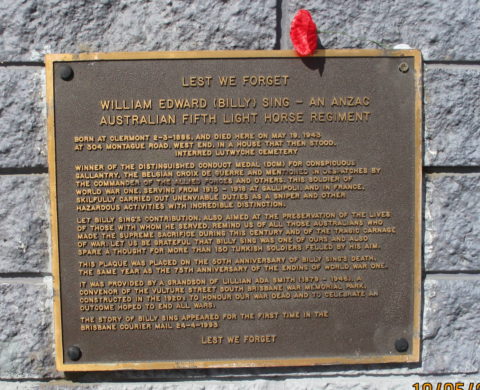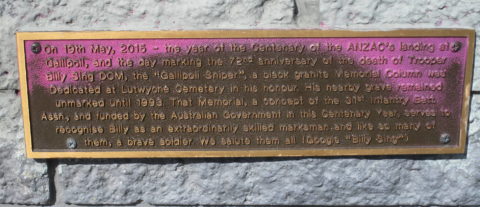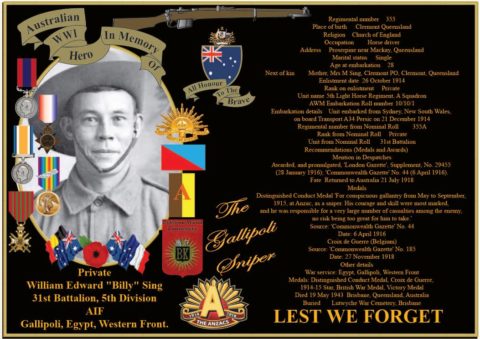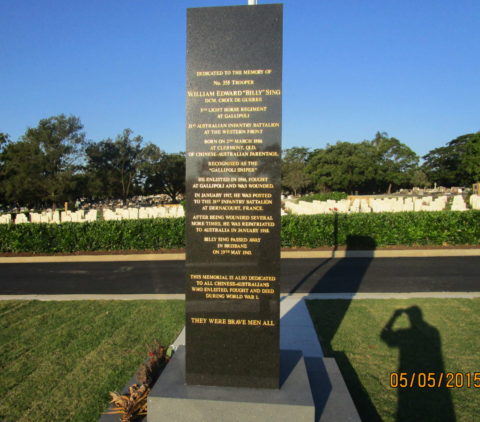 –o0o—