Affectionately known throughout the 31st Infantry Battalion family of members and their partners, and in particular those of Charlie Company, for her contagious laugh and ever-ready smile, Patricia Hilary Gardner passed away peacefully on 1st May, after a courageous struggle with persistently failing health. She was 84 years of age.
Patricia was married to former C Company OC, Major (retd) John Gardner MBE, for 62 years. The couple met in the choir at St Andrews Church, South Brisbane in 1953 and were married in the Church in 1957, before moving north to Ingham where John took over his late father's pharmacy.
"Patsy was a wonderful supporter of every aspect of my army career", said John, "beginning with National Service and continuing on to my transfer to Infantry and Charlie Company. During the years to 1971, when I retired to the Reserve of Officers, Patsy rarely complained about the many times I was away from home. My CMF service would have been impossible without her understanding and patience."
Patricia's ashes will be placed in the Columbarium at St. Andrews Church.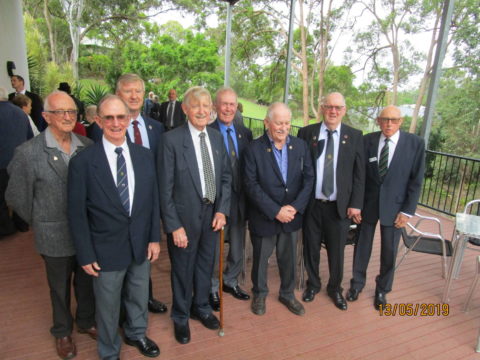 Members of the 31st Battalion Association photographed with John (Front row -Second from left)
Following the service for Patsy Gardner in Caloundra on 13th May 2019
————