Pte Arthur Edward Adams was an original 31st Bn digger signing up in Brisbane on 15th July 1915. at 18 yrs 6 mths. He had previous service in the Rosewood Infantry and was a clerk. On 16th Sept he was promoted CQMS. of A Coy. He trained at Enoggera before moving to Broadmeadows in Melbourne with A & B Coys to join with C & D Coys formed in Melbourne. They departed from Melbourne for the Suez Canal on 2 ships, HMAT A41 Bakara on 5 Nov 1915 and HMAT A61 Wandilla on 9th Nov 1915 and arrived at Suez on Dec 6th 1915.

They trained and guarded the Suez Canal as part of the 8th Brigade until June 1916 where they, along with the 14th & 15th Brigades, who formed the newly created 5th Division, transhipped from Alexandria to Marseilles in France and then entrained to northern France to a rest area behind the Western Front.
On 6th July Adams at his own request was reduced to Pte. As CQMS he would have been left out of the Battle which was then imminent. (We may presume that Adams wanted to be part of the Battle and that is shown in his later service). Almost 2 weeks later on the 19th July the 5th Division AIF, led by M/Gen James Whiteside McCay, and the British 61st Division commenced a poorly planned attack, under the Orders of English Lt Gen Richard Hacking, on the entrenched German position at Fromelles which overlooked the Allied position, and could watch the Allies forming up for the attack. The Allies suffered a number of casualties from the bombardment prior to the attack which commenced at 6.00 pm (still daylight in mid summer).

I won't go into the details of the Battle here apart from stating the 5th Division casualties (KIA, WIA, Captured & Missing) totalled 5,532 men. Many were dead in No Mans Land and the Germans offered a truce to retrieve the bodies. The 5th Division Commander, M/Gen McCay, a former Politician and Defence Minister, refused outright to agree to a Truce after he learnt of an unofficial one. Because of this decision, there are many Diggers who will never have a known grave. This from the AWM site about the Battle – https://www.awm.gov.au/wartime/44/page18_ekins
"But many remained missing. More than two years after the battle, on the day of the Armistice of 11 November 1918 when the guns of the Western Front finally ceased fire, Charles Bean wandered over the battlefield of Fromelles and observed the grisly aftermath of the battle. "We found the old No-Man's-Land simply full of our dead," he recorded. "The skulls and bones and torn uniforms were lying about everywhere."
Shortly after the war the remains were gathered to construct VC Corner Cemetery. For nearly 80 years this sombre monument remained the only conspicuous reminder of the tragic events of Fromelles, until in July 1998 a new Australian Memorial Park was dedicated there. Situated close to VC Corner Cemetery on a part of the old German front line which was briefly captured and held overnight by the 14th Brigade, the park includes the stark remains of four German blockhouses."
Of course, thanks to Lambis Englezos and his team, we have now found the 250 diggers' bodies that were KIA in the German lines and buried by them. They are now in the Pheasant Wood Military Cemetery at Fromelles, with 166 now having named headstones.
Continuing on the Pte Adams history, he was promoted to Sgt a week after the Battle of Fromelles, and then to acting CSM when WO2 Gair was promoted 2Lt on 24 Aug 1916.
He was wounded in action (WIA) on 19 Dec 1916 and was in hospital for a month before returning to the Battalion on 15th Jan 1917.
He distinguished himself in Battle at Bapaume in mid March 1917 and was later awarded a Distinguished Conduct Medal. His Citation reads –
"For conspicuous gallantry and devotion to duty. At Bapaume during action 14-17 March 1917 his work all through was of high merit. On the evening of 14 March with a fighting patrol of 50 men, he attempted to effect an entrance through a strongly-wired position at Till Trench but was held up by machine-gun fire which was causing casualties. This Warrant Officer seized a Lewis Gun, and quickly taking up a position on the enemy's flank, he engaged the hostile gun at point blank range, silenced it, and thus saved many casualties"
On 27th July 1917 he was then seconded as a supernummary in 8th Training Battalion initially for 3 weeks, before going to the School of Instruction. He instructed there until rejoining 31st Battalion on 18 Dec 1917. On the 19th May 1918 WO2 Adams proceeded to England to the Officers Training Battalion at Oxford for Officer Training.
He qualified and was promoted 2Lt on 18 Dec 1918 and rejoined 31st Battalion in France on 17 Jan 1919. He finally returned to Australia and disembarked in Melbourne on 20 Aug 1919 then returned to Brisbane and had his appointment terminated.on 15 Oct 1919. His head wound received in Dec 1916 was stated to have no on going effects just prior to his termination of appointment in Brisbane.
Sadly however, he died on 10 Feb 1925 at age 28.5 years and is buried at Ipswich Cemetery.
LEST WE FORGET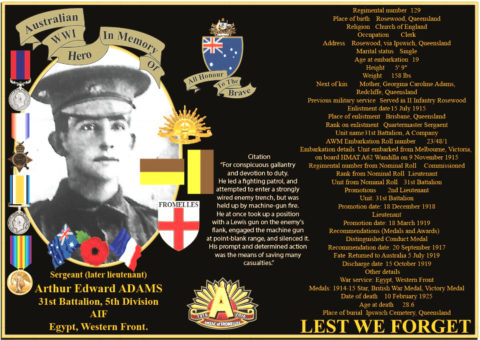 Tribute to Lt Arthur Adams DCM by member Pierre Seillier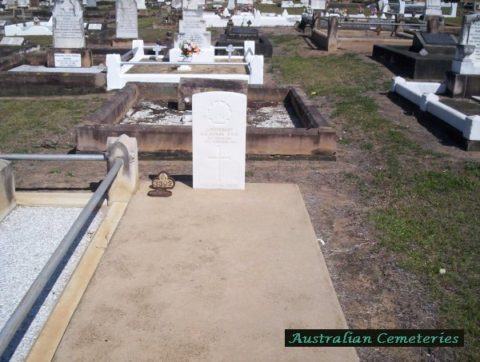 Grave site of Lt Arthur Adams DCM in Ipswich Cemetery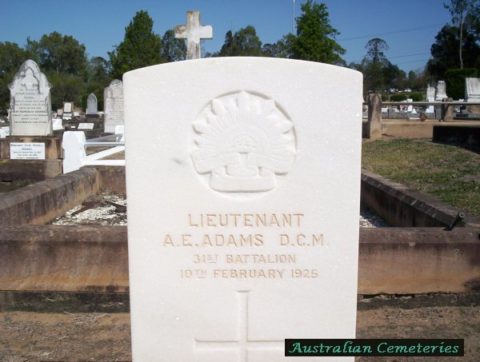 Gravestone Details