Monday 2nd Sept 2019 was a special day in the life of 31st Battalion Association. On this day our last surviving 2/31st Battalion member in Brisbane, WO2 Alf Cumberland had his 102nd birthday celebrations. There to wish him a Happy Birthday along with other friends, were Brisbane Branch Association members- President Ray Fogg, Secretary Tony Wadeson , Mick James and Tim Lewis. We had arranged for our Honorary French member, Pierre, to do a Tribute for Alf on his 102nd Birthday (hence the 102 on the Tribute). We also arranged for his service file to be opened and we presented Alf with a copy.
We travelled to Alf's Retirement Home south of Brisbane and the staff there provided some refreshments and we supplied the cake (see other photo). Alf was overjoyed with the Tribute, particularly the photo of himself when he joined up. He vowed to hang it in a place of honour so he can view it every day and treasure it. He was also thankful for the copy of his Service Record. It prompted various questions regarding his War Service and most were explained. He is still very "switched on" – when I mentioned that he grew up in Wellington St Clayfield, he could describe where it is (off Oriel Rd) and asked if I knew it. When I replied I delivered Meals on Wheels in the next St, Alf immediately said "Monpelier". It was his parents home and he wouldn't have been there in the last 50 years.
I'll post more of Alf's history later. He was a reinforcement to 2/31st Battalion in New Guinea in Nov 1943 and suffered in Hospital for some months when they withdrew back to Australia in Jan 1944. He rejoined the Battalion in July 44 at Strathpine and subsequently trained on the Atherton Tableland until they departed for Morotai and subsequently to invade Balikpapan. Our discussion brought back many memories for Alf (mostly happy ones) and he was reluctant to let us leave,even though he was getting tired. We are planning for another meeting with him this year.
Congratulations Alf.
Words by Association Member,
Mick James
Editor's Note: One of Alf's many anecdotes was posted in July this year. It appears in  the 2/31st Battalion page under the Unit Activities Menu of this website. Member Tim Lewis passed on another anecdote from Alf that was retold at his birthday gathering. It concerns the battles on the Milford Highway that occurred subsequent to the landing at Balikpapan, Borneo, on 1st July 1945. Alf says that they were pushing up the Milford Highway and the Japanese were firing splinter bombs. To his horror one dropped and dug into the ground at his feet. To his great delight it failed to detonate. 74 years later he still marvels that he is able to recount his good luck on that day.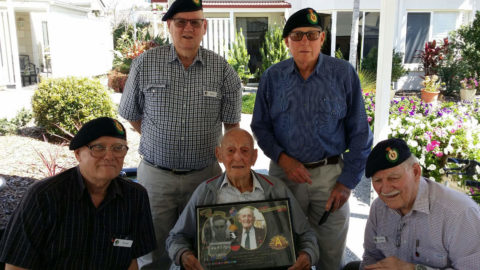 Alf Cumberland celebrating his 102nd Birthday with members of the 31st Battalion Association.
The Association presented Alf with a tribute to mark the occasion and to thank him for his service.
The tribute was produced by our Honorary member in France, Pierre Seillier.