Fred Cave fought in the one of the final bloody battles of World War II. The battle took place after the landing of the 2/31st Battalion and other units of 7th Brigade at Balikpapan, Borneo in July 1945.
His son, Peter Cave became a journalist with the Australian Broadcasting Corporation. Fast forward now to 30th April 2012 for Peter's story:
After more than 40 years with the ABC and 30 years reporting foreign wars, Foreign Affairs Editor Peter Cave is on his way back from his last overseas assignment.
One of his retirement projects is researching the life and death of John Elliott, an ABC correspondent who was killed in 1945 covering one of Australia's bloodiest battles in World War II.
Peter has uncovered information about Elliott's death that points to a highly personal link to his father Fred Cave, who served as a Bren gunner in the area Elliott died.
I first learnt of John Elliott when I was involved with an ABC exhibition chronicling the work of ABC foreign correspondents called Through Australian Eyes.
In one corner of one poster there was a mention of John Elliott's death in Borneo in 1945 and a grainy photo.
The name didn't ring a bell with me, nor the photo, but what caught my attention was the fact that he died in Balikpapan.
Balikpapan was a name familiar to me because I knew my late father Fred Cave had served there in 1945 as a Bren gunner with the Australian 7th Division.
I mentioned this to my colleague Tony Hill, a former correspondent in Thailand and the Middle East, who had been one of the main organisers of the exhibit and he handed me a folder full of archival material on John Elliott.
At the time of his death it was reported that he was killed in action by the Japanese, and that story has found its way into most of the scant information on John Elliott death in the history books and on the internet.
But one old yellowing page hidden amongst the wad of documents made my blood run icy cold.
It was a letter from the Department of Information to the ABC executive outlining the true circumstances of his death, and that of an Australian Information Service journalist, Bill Smith:
Both men were seeking names of troops in the forward area when they were shot down. Elliott getting material for his broadcasts and Smith for his weekly Diary feature.
For reasons unexplained they had wandered into enemy territory near where Jap snipers had been holding up out troops for some hours.
They picked out a Jap shelter, sat down in front of it, and began exchanging notes and having a bite to eat.
Just a few minutes before three Japs were killed a few yards from where they were sitting. Smith had removed his slouch hat, but Elliott retained his American visor cap, which from a distance looks very like a Jap cap.
An Australian Bren gunner, 700 yards away saw the two figures, was convinced they were Japs and fired killing both men instantly. He cannot be blamed for what happened. He was only doing his duty.
The official Army version is that both men were killed in action.
That is as it should be.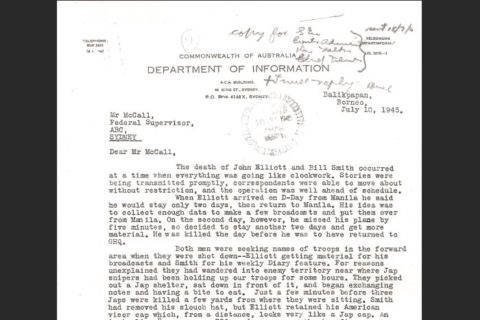 Letter to ABC federal supervisor outlining circumstances of John Elliott's death
I was stunned. Was it possible that my father had shot and killed the first ABC correspondent to die on a battlefield. A correspondent doing the very job I do now.
After more than five years of research I have yet to discover the truth.
Hopefully I will in the near future, but it has opened the window on a fascinating life and death that has been forgotten.
The news of his death coincided with the death of prime minister John Curtin and rated only a few paragraphs.
Shortly after, the first atomic bomb on Hiroshima effectively meant the war was over and Elliott, who had no living relatives in Australia, became a historical side note.
The ABC weekly carried a brief obituary a few weeks later that really only hinted at the rich tapestry of his life story.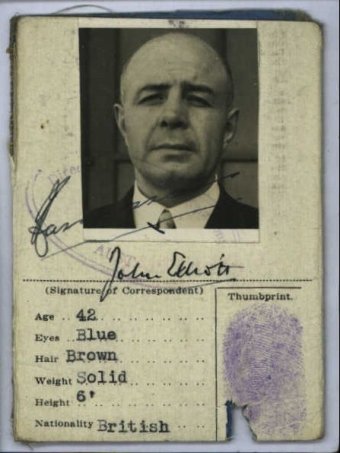 John Elliott, soldier, airman, journalist, novelist and former professional boxer, began his career in the Royal Navy.
He was discharged in 1919 at the age of 17 with a hand injury. This however did not prevent him representing England in the final of the light heavyweight contest at the Paris Olympic Games.
He lost on a doubtful decision and eventually became a professional. After fighting in America he came to Sydney where he won four out of the five professional fights he engaged in. He then entered journalism as a boxing reporter.
In 1938 he went to England and joined an RAF contingent to Finland where he flew until that country collapsed.
He returned to Australia in 1940 and joined the AIF. In the Middle East he served as assistant to Kenneth Slessor, the official war correspondent.
John Elliot obituary, the ABC Weekly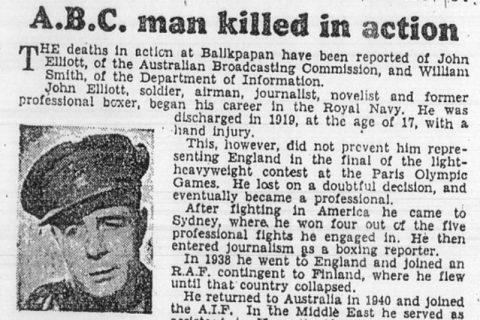 The brief details, some of them wrong, go nowhere near telling the real story of his life.
There is no mention of him meeting and marrying a beautiful young actress in Australia only to lose her tragically to cancer a few years later.
They do not tell how the grief led him to join the quixotic venture against the Soviet Union in Finland, or of his escape through wartime Russian and China to Japan.
Upon his return to Australian he was investigated as a Nazi sympathiser, before a chance meeting with then prime minister Robert Menzies at the Commonwealth Bank in Martin Place led to him joining the Australian Army as assistant to Australia's famous poet and war correspondent Kenneth Adolf Slessor.
This posting would eventually lead to his death.