The William Dargie portrait of Jimmy Gordon VC holds pride of place alongside of the picture of Patrick BugdenVC on the home page of the 31st Battalion website. Last week marked the start of the what became known as the Syrian CampaignIn in 1941. Almost a month after that Jimmy Gordon, a member of 2/31st Battalion distinguished himself against forces of the Vichy French. The details of the battle are contained in the <Archive February 2019> of this website.
William Dargie was commissioned to paint the portrait 'Corporal Jim Gordon' [5900231 (WX2437)], shortly after Gordon was awarded the Victoria Cross. Born in Western Australia in 1909, James Gordon, a private in the 2nd Australian Imperial Force, received his VC for his actions at Greenhill, near Jezzine, Lebanon, on 10 July 1941. Under intense machine gun fire, Gordon approached an enemy machine gun post, and charged and killed four machine gunners with a bayonet. This action demoralised the enemy and allowed Gordon's company to advance, taking the position. Gordon was greatly admired for the courage demonstrated by these actions.
Gordon's portrait served a dual purpose: it was a realistic likeness of a distinguished individual and it was also a deliberately constructed image of an Australian 'type'. Facing the viewer, his eyes slightly averted from directness, with an expression of seriousness and reserve, Gordon is presented as a modest soldier yet he is also the heroic embodiment and glorification of the bronzed ANZAC. The figure, close to the picture plane, dominates the hastily sketched landscape. His rolled up sleeves suggest both the heat of the Middle East and the pragmatism of a man of action. Gordon's face and forearms, ruddy from the exposure to the sun, have been painted in a detailed manner. By contrast, his uniform and the background sky have been applied rapidly in broad expressive brushstrokes. This work won the Archibald prize in 1942 and was extremely popular due to patriotic sentiment combined with a high public regard for the depiction of the typical digger.
Dargie noted his experience of painting the portrait that Gordon was, "Not the smiling, happy-go-lucky "Digger" of legend, but the slightly older-than-young man with a very definite sense of responsibility. A farmer from Western Australia, he had all the countryman's modesty and reticience of speech. He rather deprecated heroism as such, and said "No-one likes wars. It's just a matter sticking with your friends." As I was painting this portrait, and was discussing with him the action at Merjayoun, in which he won his V.C., I noticed he was trembling. Thinking he was feeling the strain of the pose, I said, "Have a rest. I've had you sitting too long." "No, that's alright." he said, "but I always get like this when I think of that action." I felt sorry I had reminded him of it, and said so. He replied: "My cobber and myself often talk about it." "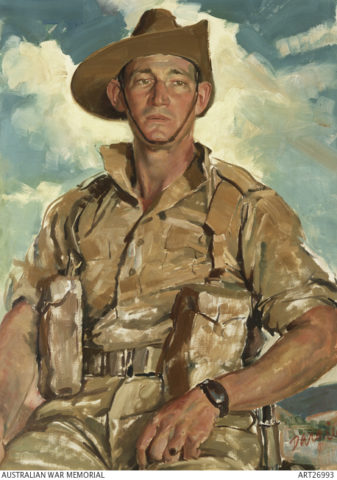 Place Middle East: French Mandate for Syria and Lebanon, Lebanon
Accession Number: ART26993
Collection type: Art
Measurement framed: 100 x 80 cm; unframed: 76.2 x 55.8 cm
Object type: Painting
Physical description: oil on canvas
Location Main Bld: Hall of Valour: Main Hall: Western Art Wall
Maker: Dargie, William
Place made Syria
Date made 1941
Conflict Second World War, 1939-1945
Copyright Item copyright: © Australian War Memorial