On Sunday 19th July, the 31st Bn Assoc (Brisbane Branch) held a Commemoration Service to Honour the Casualties sustained at the Battle of Fromelles. The Battle took place on the 19th/20th July 1916. This Battle, planned and organised by the British High Command, was the first battle in which Australian troops took part on the Western Front. It proved to be a disaster and was responsible for 5533 casualties, the highest sustained over a 24 hour period in the British Army, in WW1. The 31st Bn, took a major part in the Battle and we commemorate this day as most important in our history. We again draw your attention to the fact that the 31st Bn is the only battalion from the 5th Div. AIF  on strength in the ADF today.

The Service was held in Ipswich, at the Graveside of Lt. Arthur Adams DCM, – 31st Bn. Lt Adams came from Rosewood, fought in the Battle & survived, later to become the Rosewood Shire Clerk and the First President of the Rosewood RSL. We were honoured to have COL Mark Plath (Ret'd) as our Guest Speaker.  Mark is a descendant of Col Fred Toll DSO & Bar MBE VD, the CO of the 31st Bn in WW1, and who led the Bn into Battle at Fromelles.

We were also honoured to again have in attendance, LTCOL Damien Green & WO1 John Stafford, the CO & RSM of the 31st/42nd Battalion RQR.  – LTCOL Green has stated that in his Opinion – "The Battle of Fromelles is the most significant war time action in our history, worthy of remembering to encourage our younger generation, so we never forget. To be a member of the current embodiment of a Battalion involved in that Battle puts increased emphasis and responsibility on us to ensure that happens".

We were greatly supported by both the Rosewood & Ipswich RSL Sub Branch's. Five of our friends from the 49th Bn Assoc attended, and joined us for the lunch afterwards at the CSI Club.
Thank you all who attended, and a special thanks to Mick James who was our chief organiser of the Event.
There was also a private Wreath Laying Service held in Fromelles France, organised by the Aust. Dept of Veteran Affairs & the Fromelles Council.  Due to the Corona Virus Situation in France it was closed to the Public. A wreath was laid on our behalf by our Honorary Member Pierre Seillier.

Our special thanks go to Pierre, who also designed & produced the Tributes that we presented to COL Mark Plath & to the Presidents of Rosewood & Ipswich RSL's.
A copy of Col Mark Plath's address is below the photos>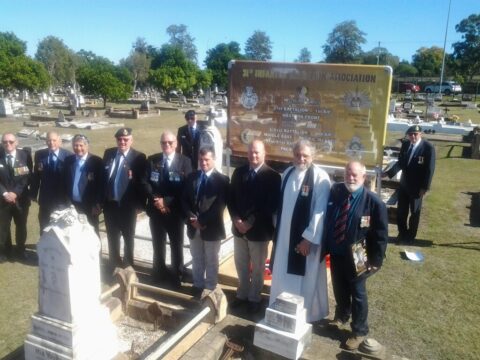 Members who attending the Fromelles Commemoration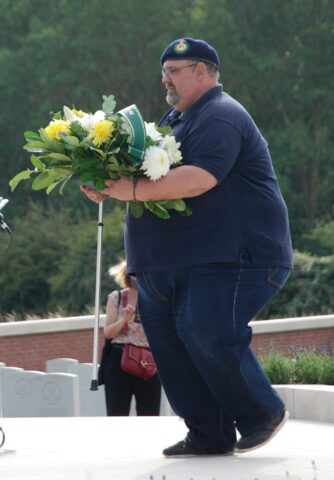 Honorary 31st Battalion Association Member Pierre Seillier
Laying wreath at the commemoration at Fromelles, France
Colonel Mark Plath (Rtd), Descendent of Colonel Frederick William Toll, DSO and Bar, MBE, VD
Address of Commemoration – 'Service Above Self'
Before we commence the Commemoration of the 104 th Anniversary of the Battle of
Fromelles, let me take this opportunity to acknowledge the Traditional Owners of the
Land on which we meet today, and pay my respects to their Elders past, present and
emerging.
Let me also gratefully acknowledge the following distinguished guests:
Mr Ray Fogg, President, 31 st Infantry Battalion Association, Brisbane Branch
Mr Tony Wadeson, Secretary, 31 st Infantry Battalion Association, Brisbane Branch
Mr Rob Wadley, President, Ipswich RSL Sub-branch
Padre Peter Woodward, Ipswich RSL Sub-branch
Mr Ken Savage, President, Rosewood RSL Sub-branch
Mr Shane Walker, Vice President, Rosewood RSL Sub-branch
Mr Brad Strong, Bugler, Rosewood RSL Sub-branch
LTCOL Damien Green, current Commanding Officer, 31 st /42 nd Battalion, Royal
Queensland Regiment
WO1 John Stafford, Regimental Sergeant Major, 31 st /42 nd Battalion, Royal
Queensland Regiment
Mr Mick James, Liaison Officer for my part in this important service
Ladies and gentlemen, good morning, and welcome to this important commemorative
service. Tony Wadeson advised a while ago that due to the COVID-19 pandemic
limitations in France, the annual commemorative ceremony at Fromelles is unlikely to
proceed, so today's service is perhaps the only such recognition anywhere in the world
this year.
Thank you for being here today to honour the memory of those who so gallantly served
our nation. We remember especially those in the 31 st Battalion, Australian Imperial
Force during The Great War in general, and at the Battle of Fromelles in particular.
Moreover, thank you for the invitation to address this morning's service which I
consider to be both an honour and a privilege. In titling my address, I have borrowed
the motto of Rotary International, 'Service Above Self', which epitomises the
sacrifices made by our forebears.
We stand here this morning at the graveside of Lieutenant Arthur Edward Adams, DCM
a clerk from Rosewood, who enlisted on 15 July 1915, nearly 19 years old, and despite
surviving the war, died at the tender age of just 28 years and 6 months. Not only did
Arthur Adams serve his Unit and country during conflict, but he was also the Founder
and President of the Rosewood RSL Sub-branch, hence that particular connection.
But my duty this morning is to remember and pay tribute to another member of the
31 st Battalion.
You see my mother's maiden name was TOLL indicating my family relationship with
then Lieutenant Colonel, later, Colonel Frederick William Toll, DSO and Bar, MBE, VD.
At 43 years of age, LTCOL Toll as the inaugural Commanding Officer of the newly raised
31 st and LT Adams as initially a Quartermaster Sergeant, joined together, served
together and successfully survived the war together, although I have not discovered if
they were especially well known to each other. But the unifying theme today for these
two great men and soldiers, was the attack at 'Fleurbaix' or sometimes referred to as
'Petillon', which would later become known as the Battle of Fromelles.
The attack was the début of the Australian Imperial Forces on the Western Front. The
British high command devised the attack as a feint to hold German reserves from
moving south to the Somme where the large allied offensive had begun on the 1 st of
July.
The Australian War Memorial described it as, 'the worst 24 hours in Australia's entire
history.' Of 7,080 British Expeditionary Force casualties, 5,533 were suffered by the
5th Australian Division (of which the 31 st was part); while the Germans lost 1,600–
2,000 men and 150 prisoners. This was perhaps the greatest loss by a single division in
24 hours during the entire war. Indeed, many historians consider Fromelles the most
tragic event in Australia's history.
To the soldiers who fought at Fleurbaix, the Battle of Fromelles, was to quote, 'an
unmitigated military disaster, the dismal culmination of muddled planning and reckless
decision-making by both British and Australian commanders and staff.' Moreover, the
attack had little to no effect on the Somme battles, and even became cynically
dismissed by surviving soldiers as 'that Fleurbaix stunt'.
In an official field record dated 27 July 1916 and titled 'Total Casualties – Fleurbaix –
19 th /20 th July 1916, the 31 st Battalion reported 576 casualties, more than 50% of its
posted strength.
Almost 12 months prior, the 31 st Battalion was raised as part of the 8 th Brigade at
Enoggera Camp, then on the outskirts of Brisbane, in August 1915. As an aside,
Corporal Frederick Vivian Toll, son of the 31 st Commanding Officer was tragically killed
in action at Gallipoli on the 8 th of August 1915.
'A' and 'B' companies were formed of Queenslanders while 'C' and 'D' companies were
raised at Broadmeadows Camp in Victoria. In early October 1915, all elements were
united at Broadmeadows, and on the 5 th of November 1915, the battalion sailed
aboard His Majesty's Australian Transport 'Wandilla' (A62) from Melbourne.
The 8 th Brigade joined the newly raised 5 th Australian Division in Egypt, and in June
1916 proceeded to France, destined for the Western Front. The 31 st Battalion fought
its first major battle at Fromelles on 19 th & 20 th of July 1916, having only entered the
front-line trenches three days previously.
But what of the man LTCOL Frederick William Toll or Fred Toll, as he was often called.
I distinctly recall my grandmother, who sadly passed many years ago now, talking
enthusiastically and respectfully about 'Uncle Fred Toll'. From her reflections and
recollections, I always formed a clear view that Fred Toll was certainly a man's man,
who went to great lengths to ensure the welfare of his men, right up until his passing
in Greenslopes Hospital on 6 November 1955. My grandmother recalled ANZAC Day
marches including the 31 st Battalion AIF Association being led by Fred Toll, with the
parade commentator proudly announcing, 'here comes the men of the 31 st , the pride
and joy of Colonel Toll' or words to that effect.
Frederick William Toll's military service commenced well before The Great War,
initially when he joined military cadets in 1888 whilst undertaking his secondary
education at Brisbane Grammar School. After graduating, he returned north and
amongst other things, was commissioned in the Kennedy Regiment on 2 February 1892
and promoted captain in 1897.
Toll then volunteered for service in the South African War. He sailed with the 2 nd
Queensland Contingent as a special service officer in January 1900, and from Cape
Town, joined Lord Roberts' army in the occupation of Bloemfontein, commanding an
infantry company of the 44 th Essex Regiment. Toll saw action during the advance to
Kroonstad, Johannesburg, Pretoria and Belfast and after the capture of Nellspruit, was
appointed provost-marshal and commanded troops who then returned to Australia.
He returned to South Africa in March 1901, this time as Second-In-Command of the 5 th
Queensland Imperial Bushmen and was soon after promoted to Major. Toll
commanded the contingent from 1 August in actions in the Cape and Orange River
colonies and the Transvaal. In January 1902, he was captured briefly by Boers. Noting
the extensive number of major operations and lesser skirmishes in which the 5 th was
involved, Toll gained the reputation amongst this men as 'the Fighting Major'.
Ultimately, Toll arrived in Brisbane aboard the transport 'St Andrew' in April 1902 and
his appointment was routinely terminated in July of that year. During his service in
South Africa, he had been Mentioned-in-Dispatches and of the eight clasps possible,
was awarded the Queen's South Africa Medal with five clasps and the King's South
Africa Medal with two. Toll's South African service is often remembered at the
commemorative services for the Battle of Onverwacht.
With the outbreak of war in 1914, Toll enlisted again for overseas service. He embarked
for New Guinea in January 1915, leading the 3 rd Battalion, Australian Naval and Military
Expeditionary Force, with the rank of Major. As Lieutenant Colonel from 1 March and
Officer Commanding the troops in Rabaul, he was twice acting administrator of New
Guinea in the absence of Colonel Sir Samuel Pethebridge. At his urgent request for
active service in 1915, he was given command of the 31 st Battalion, which he formed
and trained, leaving later that year for Egypt.
As a result of the 31 st Battalion's actions at Fromelles, Toll was recommended by his
Brigade Commander, Brigadier-General Edwin Tivey, and was subsequently awarded
the Distinguished Service Order or DSO. The citation for this award Gazetted on 12 th
October 1916, reads as follows:
'This officer has been with the Brigade since its formation and has always done his duty
in a most conscientious and efficient manner.
During the operations in the Suez Canal Zone he was untiring in his efforts to obtain a
high standard of efficiency and has always been an example to his Officers and men.
Lt.Colonel Toll displayed great gallantry all through the operations of 19/20 th July 1916,
at PETILLON. He was slightly wounded at the commencement of the action and before
the assault was made and (sic) he lost heavily in Officers and men. He led the 3 rd and
4 th waves over the parapet himself. Before reaching the enemy trenches 13 Officers
has (sic) been killed or wounded, including three Company Commanders. Lt.Colonel
Toll personally took charge and pushed on, making vigorous efforts to consolidate the
position won, reconnoit-ring (sic) the enemy's defences and taking prisoners. On the
retirement he organised the troops on our original front line.'
During the Battle of Polygon Wood, Frederick William Toll was again decorated with a
Bar to the Distinguished Service Order for his, '… conspicuous gallantry and devotion
to duty .' Seriously injured and gassed at Polygon Wood he was evacuated to Britain in
January 1918. In addition to his two Distinguished Service Orders, he was also twice
Mentioned In Dispatches by General Haig.
After The Great War, Toll became commissioner for war service homes. He initiated
and led the establishment of the 31 st Battalion Social Club and took an enduring
interest in the welfare of his former charges. He was also a foundation member of the
Returned Sailors' and Soldiers' Imperial League of Australia, its Brisbane vice-president
1924-27 and Mackay president in 1928-30. Toll was also the Government
representative on the Mackay Hospitals Board, Director of the Mackay Rotary Club,
President of the Mackay Rifle Union, and Commandant's representative on the North
Queensland Rifle Association.
For his services to returned servicemen, Toll was made a Member of the Order of the
British Empire in 1939. Not content with retirement, during World War II he was
district manpower officer, then services liaison officer.
Ladies and gentlemen, in conclusion, let me reprise the notable and distinguished
service in war and in peace of Lieutenant Arthur Edward Adams, DCM and the
distinguished service and post service career of Colonel Frederick William Toll, DSO
and Bar, MBE, VD, a competent accountant and successful business manager,
marksman, athlete and Rugby footballer, in my mind certainly and I now hope in yours
too, both of whom epitomised the ethos of 'Service Above Self.'
Lest We Forget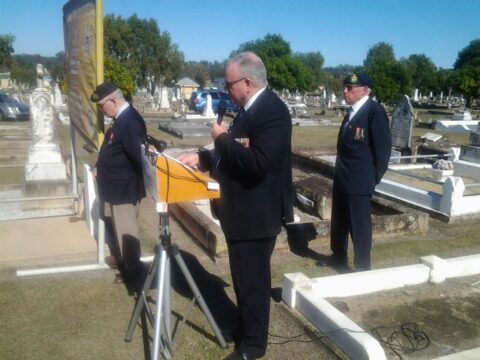 Battle of Fromelles Address by Col Mark Plath (Rtd)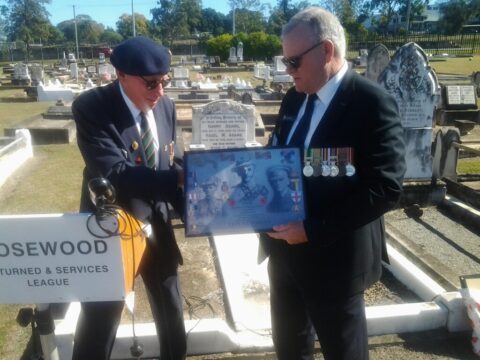 Presentation to Col Mark Plath by Brisbane Sub Branch President Ray Fogg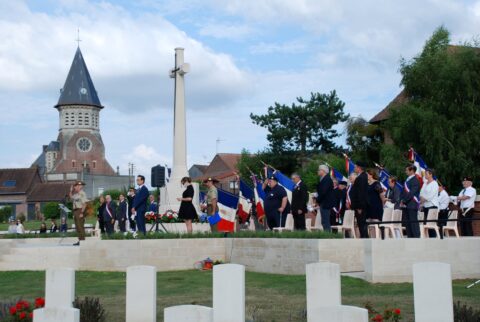 Battle of Fromelles Comemoration at Fromelles, France.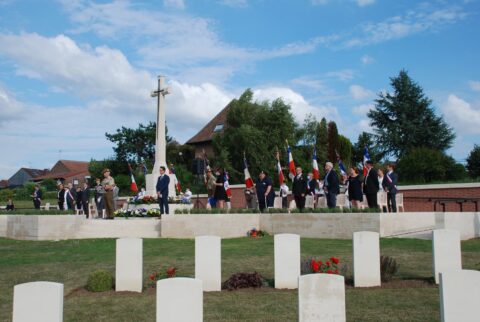 Commemoration at Fromelles, France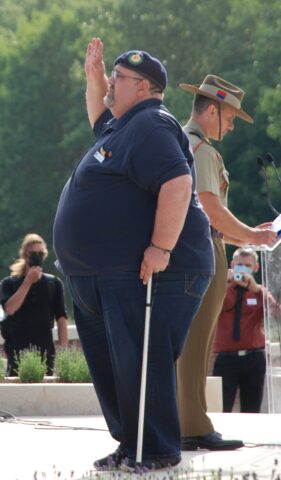 Honorary Member Pierre Seillier Saluting at Commemoration at
Fromelles, France
—0—