A message from Vic Nichol, Secretary/Treasurer of the Charters Towers Branch of the Association has advised us of the sad passing of Barry Renton. Barry enlisted as a private in 31st Battalion on 21 Jan 1958.
He was was a staunch member of the 31st Battalion Association Charters Towers Branch attending various functions. He was one of the first to offer help to whenever it was required. Much of his life was spent in the transport business.
He ran a successful business owning a fleet of trucks.
A email from Vic Nichol  describes the service held on the 1st September 2020 at 10am.
"It was a well planned funeral and Barry would have been proud of his family. His coffin was carried on the side-car of a Harley Davidson with his grandson riding Barry's Harley escorted by five more Harley motorcycles followed by the vehicles of relatives and friends, accompanying Barry on his last ride down Gill Street. Following this was the grave side and poppy service at the Cemetery.  The wake was held at the RSL Club".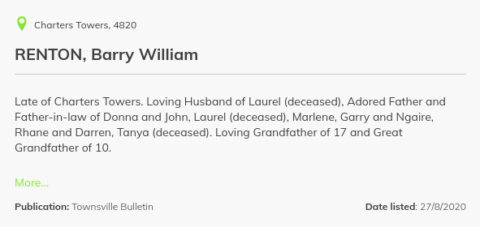 --