The Secretary of the Brisbane Branch of the Association, Tony Wadeson has passed on the following sad message:
It is with great sadness that I report the passing of Merv Short, the optimum of an Officer & a Gentleman. A great Character and Entertainer, but above all a great mate & true friend to all who new him. Who could forget the Army CL Truck heading through the streets of Townsville on the way to a W/E Bivouac, with the sounds of a Piano being played from the covered back.

Merv passed away early Thursday morning (3rd September 2020) after a long Illness. Our thoughts and deepest sympathy go to Merv's devoted wife Wendy who nursed him at home, until the end.
Merv's funeral will be a private Service to be held next week.

Farewell old friend – RIP
Tony
Merv continued to be involved with the 31st Battalion long after his family and business commitments restricted the amount of time he was able to devote to specific postings. His was a continuing effective presence as Chairman of the Committee For Employer Support Reserve Forces (CESRF). In this capacity he continually liaised with other employers to smooth the way for many of their employees to complete their army commitments to the Battalion. His emphasis was always on the value adding that Army Reserve service gave back to an employer in the long run.
As Honorary members of the Mess, Merv and Wendy were always great supporters of many social occasions. Members will attest that, with a small amount of encouragement, Merv would to sit down and tinkle the ivories on many of these occasions. Wonderful evenings of song, enjoyment, and camaraderie.
I am sure many others know of the generosity of Merv Short but I, as a past member of the board of the Endeavour Foundation, can attest that Merv always was the first to generously contribute, whenever we sponsored an outing for the disabled young people in the care of the Foundation in Townsville,
Thanks Mate
Martin O'Sullivan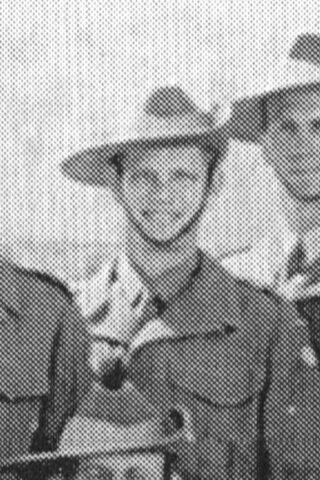 A Young Merv with a Group of Officers of 31st Battalion (Circa 1950's)
-o-