The following message has been received from the Secretary of the Brisbane Branch of the 31st Battalion Association Tony Wadeson
–
It is with great sadness that I advise you of the Passing of our oldest WW2 Veteran – QX43769 WO2 Alf Cumberland. Alf passed away early this afternoon peacefully in his sleep at his residence, – The Lodge, Magnolia Aged Care, Coomera. Alf had just turned 103Yrs on the 2nd Sept. Alf joined the Army – "Artillery" on the 22nd Sept 1941. He joined the 2/31st Bn in New Guinea as a Reinforcement Nov 1943. He also took part in the later Invasion at Balikpapan Borneo. There are quite a few interesting stories to be told. Alf's Company Commander was George Henderson, the Father of Alex Swan (nee Henderson). Refer 31st Bn Assoc Website – 31bnassn.org   – Go to Archives refer to July 2019 & Sept 2019.

Members, Veterans & Friends. – FUNERAL ARRANGEMENTS – ALF CUMBERLAND. as Follows:-

(1) WHERE:- The Funeral is to be held at:-  Newlife Uniting Church – 4 Greenwich Ct. ROBINA  Q'ld 4226
(2) WHEN:- Tuesday 20th October at 1.00PM
(3) DRESS:-  31st Bn Members – Jacket & Tie, – Beret, – Medals – Name Tag.

(4) It is our intention (with the OK from White Lady Funerals) to have the 2/31st Bn Banner Displayed & form a Guard of Honour at the Conclusion of the Service.

If anyone requires Transport assistance please contact me on my Mob 0427 337 177 or by email, & I will endeavour to help you.
The Nerang RSL are Handling the Poppy Service.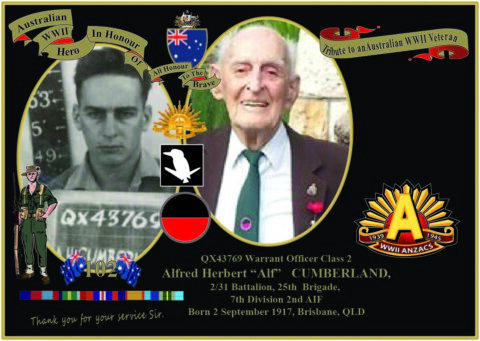 Tribute Designed & presented by our Honorary Member Pierre Seillier (France). This Tribute was presented to Alf on his 102nd Birthday last year. Due to the Magnolia Aged Care Centre being in lockdown on his 103rd Birthday this year we were unable to visit him.
–
The following Record of Service was researched and compiled by Association Committee member Mick James
Vale – QX 43769 WO2 Alf Cumberland
WW2 – Veteran – 2nd/ 31st Bn AIF
Alf Cumberland was born on 2nd Sept 1917. He grew up in "Wellington St" Clayfield Brisbane.
MILITARY SERVICE – WW2
22/9/41 – Joined the 2nd AIF – 5th Field Regiment – Brisbane
7/11/42 Transferred to 17th Field Regt. Townsville
19/11/43 transferred to 2/31st Bn Port Moresby
31/1/44 Returned to Townsville.
20/3/44 Admitted to 2/4 AGH
12/7/44 Rejoined 2/31st Bn Petrie Area. The Bn moved to Atherton Tableland in Aug 44
9/6/45 Embarked "Howell Lykes" at Townsville for Morotai.
18/6/45 Disembarked Morotai
25/6/45Embarked for Service Balikpapan
2/7/45 – 0900HRs Landed Balikpapan
3/7/45 WIA – GSW (Rifle) Rt Ear Lobe – Evac 2/5th Field Ambulance.
24/8/45 WO2 Rank Confirmed.
25/1/46 Embarked Balikpapan per "Kanimbla"
4/2/46 Disembarked Brisbane
Mick James – 31st Bn Assoc. (Brisbane) Committee Member – 8/10/2020
–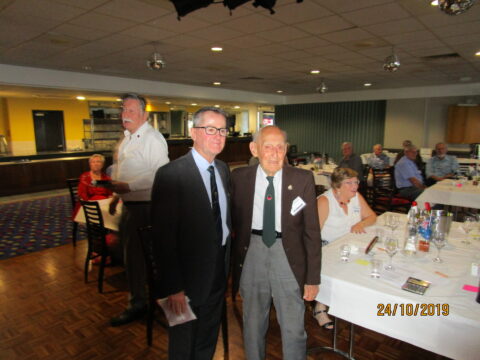 Peter Thatcher at last Octobers Reunion Lunch Meeting aged 102 Years.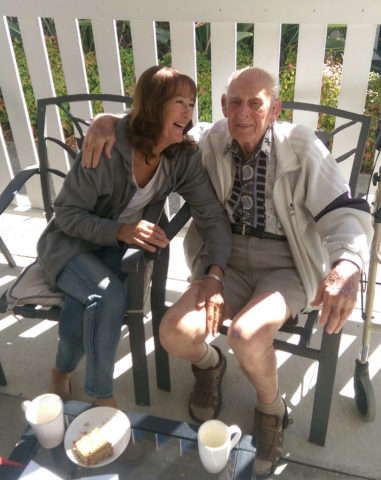 Alex Swan (nee Henderson) with Alf in April 2019.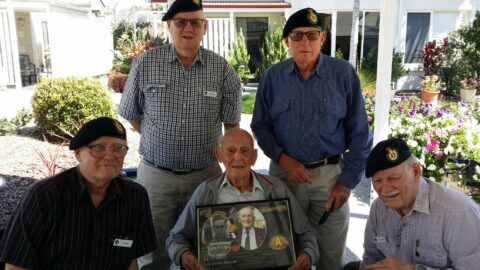 A few of us with Alf on his 102nd Birthday last year.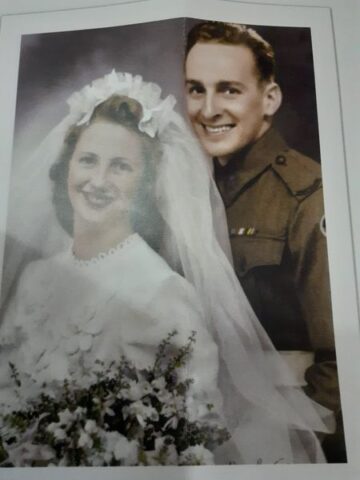 Alf and wife Stephanie on their wedding day 1946
–
A few notes from Mick James after attending the funeral for Alf:
Have been down on the Gold Coast from Monday afternoon and returned home on Thursday. Went to the funeral of 103 year old WW2 digger, 2/31st Battalion WO2 Alf Cumberland. I have known Alf since meeting him at the 2/31st Memorial at South Bank on ANZAC Day 2017, and he was a extraordinary human being.
–
Four of us from the 31st Battalion Assoc visited him at his aged care home for his 102nd birthday on Sept 2nd 2019. We brought a cake and also his WW2 Service Record. When I mentioned that his record shows he grew up in Wellington St Clayfield , he replied – "yes, do you know it? It runs into Oriel Rd." I replied "Yes, I deliver Meals on Wheels to the next street over". Straight away, he said "Monpelier St", which was correct. He wouldn't have visited his home in over 60 years, but was still as sharp as a tack.
–
I was aware that he with his wife (who died in 2014) used to make ANZAC Biscuits, individually wrapped with a sticker, "LEST WE FORGET" on each and send over 1000 to various WW2 mates, friends and acquaintances. They also had willing friends from their Aged Care home assist them. The former Editor of our magazine was a recipient of the Biscuits for a number of years.
–
Among the incredible stories we heard at the Funeral Service, was that Alf was feeling that he had had enough and, as a religious man, felt it was time to meet his maker and rejoin his beloved wife, Stephanie, whom he married in 1946.
On Monday 5th October, he wrote his eulogy. When a friend visited the next day, Alf stated he was ready to go, but not before the Eulogy was typed up. which was done on the Wednesday. Alf died on Thursday 8th October.
RIP Alf
–
LEST WE FORGET
–ooo–