This interesting piece of history which recently came to light, purely by member, Chris Hamilton, based in Longreach, reading an article in the "Barcoo Independant" . Chris followed up to make contact with the author – Ann Kirby who had mentioned about her Grand Father being a member of the 31st Battalion at the Battle of Fromelles. Chris then passed it on to Mick James who got to work with the help of Life Member Peter Nelson, & our French Life Member Pierre Seillier (Fromelles). The Team dug up a fascinating piece of 31st Battalion History. Thanks to Mick, Peter, & Pierre. Refer below, & read the website articles that Mick has provided.
Mick takes up the story:
It started a few days ago when Chris Hamilton forwarded to us an article about 31st Bn digger, No 555 Pte JJ Goulding and the sad letter his mother wrote seeking information about his whereabouts as he was missing and then noted as being in German custody following the Battle of Fromelles. The writer (Ann Kirby) noted that he was in the same Battalion & Company as her Grandfather, who was No 525 Sgt Cyril Kirby MM.
I attach Mrs Goulding's letter to the Army seeking details of her son 3 years after the Battle.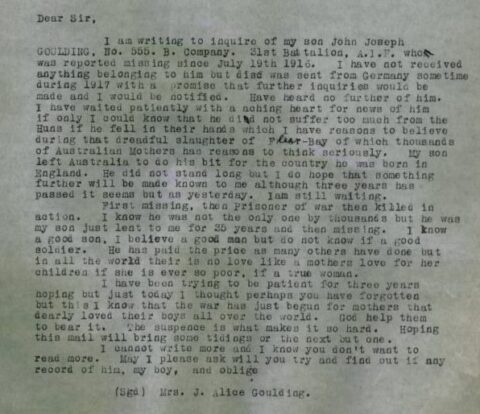 The letter written by Mrs J Goulding seeking details of her Son Pte John Joseph Goulding
–
Below also is a photo of the statue that was conceived after discussions between Lambis Englezos ,Tim Whitford and sculptor Peter Corlett. Tim was an integral part of Lambis' team to locate the missing bodies from the Battle of Fromelles. The bodies of our soldiers were buried in 1916, in a mass grave on the German side of the line. A Shire of Alberton badge given to Tim's ancestor, Pte Harry Willis, was the first indication that there could be Australian bodies buried where Lambis' group calculated that they were laying. In the past 20 years the bodies have been eventually exhumed and re-interred in the Pheasant Wood Cemetery near Fromelles. Quite a number have now been identified by DNA testing.  This is an article on the Statue – https://www.smh.com.au/national/a-mothers-grief-to-cross-the-generations-20120718-22anh.html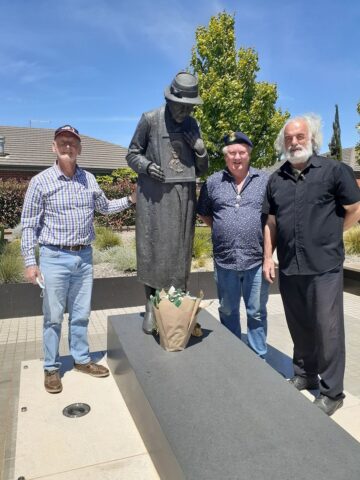 The statue of the "Grieving Mother" in Ballarat – L to R Garry Snowden Peter Nelson and Lambis Englezos
–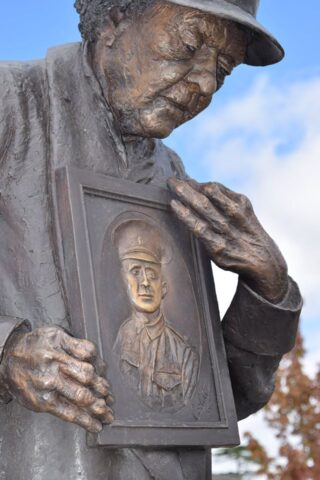 A closeup of the Statue of the Grieving Mother Holding Portrait of Her Son
Pte JJ Goulding
–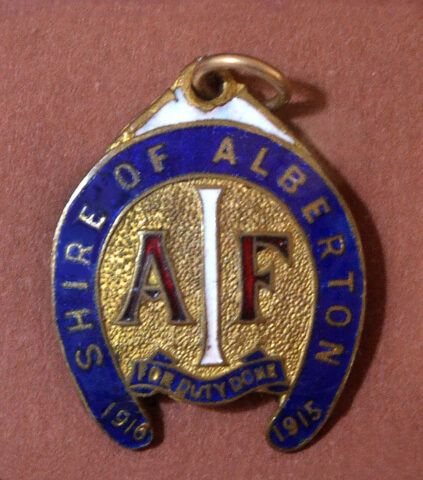 The recovery of the Shire of Alberton Badge was the clincher for the team led by Lambis Englazos
"The bodies in the gravesite at Fromelles were definitely Australian"
–
I was well aware of the JJ Goulding story and subsequent Statue of his mother. This is a link to photos and description of the Statue at the unveiling in 2017 by the Governor General, Sir Peter Cosgrove AK –
http://lemnosgallipolicc.blogspot.com/2017/02/unveiling-of-grieving-mother-memorial.html . I phoned Chris Hamilton and advised him of these details and found that the writer of the article was a Ann Kirby. I suggested that Chris should invite her to join our Facebook page 31st Battalion AIF Memorial Association (set up by Tim Whitford in 2012). I also attach a photo of JJ Goulding's grave at Fromelles with Pierre's Tribute to him that I had laminated and took on my visit in Sept 2017.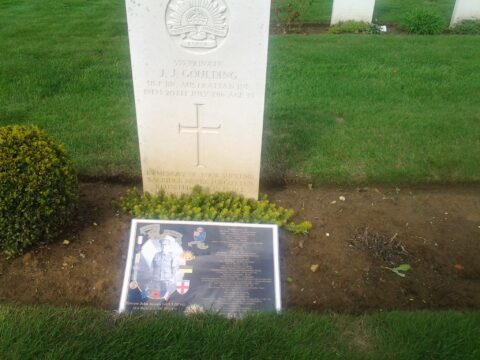 Grave of Pte JJ Goulding at Fromelles (Pheasant Wood) Military Cemetery – France
–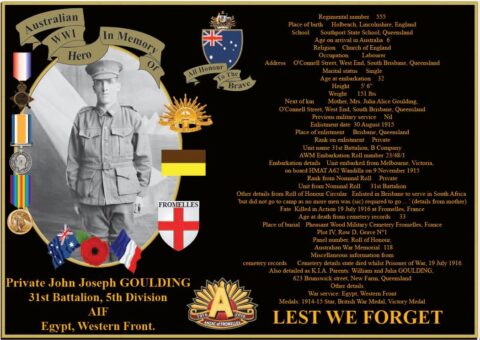 Tribute to Pte John Joseph Goulding by Hon Member Pierre Seillier
–
Ann Kirby subsequently joined the Facebook group and was welcomed and invited to post any photos of her Grandfather. I posted the story of Sgt Cyril Kirby MM below and Ann then posted the group photo (attached) There followed a discussion on Facebook on the details of the group photo between Pierre, Peter Nelson, myself and one other. Ann had stated that Cyril was front row 2nd from right. but there was some doubt as the shoulder flashes didn't appear to be Gold & Brown and he had CSM badge on his sleeve. I confused the situation by initially stating the incorrect time he was an acting CSM.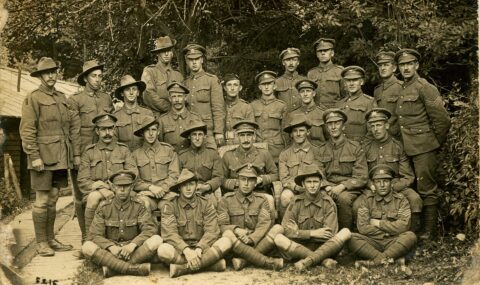 Eventually, after I suggested that it may have been in the Summer of 1917 because some wearing shorts and before Cyril had been awarded his MM, Peter Nelson agreed and found in Battalion Routine Orders that A/CSM Cyril Kirby had returned from a 5th Army school course on 9th August 1917. This explained the British soldiers and others from 2nd Div AIF in the photo. It was commented that the photo was of high resolution more than once.
Pierre, after initially posting a Tribute, then used his skill to expand the image of Cyril and place it on a grey background (similar to a studio photo) and produced another Tribute with the enhanced photo (attached).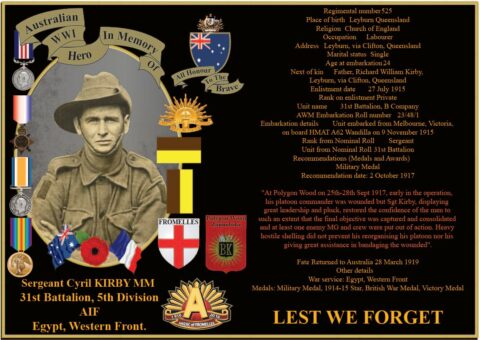 Tribute to Sgt Cyril Kirby MM done by Hon Member Pierre Seillier
–
The story I posted to Facebook –
He joined B Coy 31st Bn in
Brisbane in August 1915, trained at Enoggera then moved to Broadmeadows in
Melbourne where BHQ, A & B Coys joined C & D Coys there and the whole
Battalion shipped to the Suez Canal arriving in Dec 1915, where they underwent
further training and also guarded the Canal from the Turks.
In June 1916 they shipped to
Marseilles and entrained up to Northern France to the Nursery, a reserve area
behind the Front Line. They moved into the Front Line at Fleurbaix around the
12th July 1916 and attacked the German front line trenches in front of Fromelles
on the evening (6.00 pm when it was still light) of 19th July.
Cyril was a Pte during the Battle
but a week later (26/7) was promoted Sgt . He relieved as Coy Sgt Major from 8th
April 17, but reverted to Sgt on 23rd Aug 1917.
In the Battle of Polygon Wood in
Belgium on 26th-28th Sept 1917, he was subsequently awarded a Military Medal.
His Citation reads-
"At Polygon Wood on 25th-28th
Sept 1917, early in the operation, his platoon commander was wounded but Sgt
Kirby, displaying great leadership and pluck, restored the confidence of the men
to such an extent that the final objective was captured and consolidated and at
least one enemy MG and crew were put out of action. Heavy hostile shelling did
not prevent his reorganising his platoon nor his giving great assistance in
bandaging the wounded".
He attended Musketry schools and
Training Battalions as an instructor both prior to Nov 18 and after. He returned
home in early 1919 and finally discharged in Oct 1919.
LEST WE FORGET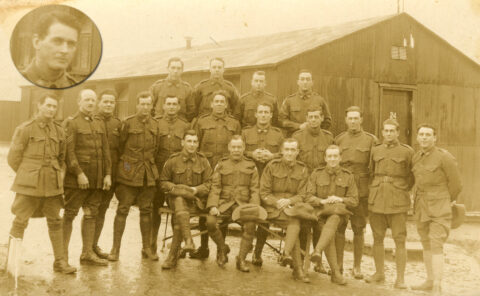 Sgt Kirby on the left of Picture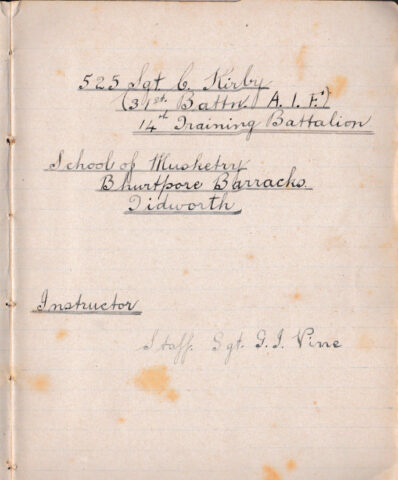 –000–