The following story was uncovered by Association member Mick James. Having just returned from a visit to the AWM, I totally agree that this new display is a fitting addition to the Hall of Valour. At its centre it features our most recent posthumous awardee – Ordinary Seaman Edward 'Teddy' Sheean VC – 78 years after his selfless act of bravery (description below).
Martin O'Sullivan
–
I've just come across this new AWM display of V C awardees. See photo.
–
While it doesn't say so, it is the 1st occasion where the AWM  could mount a VC Display including the 3 Services. All VCs were in WW2.
–
We have (from left to right) John Edmondson VC, for actions at Tobruk, our own 2/31st Battalion Jimmy Gordon VC, Sir Roden Cutler VC AK KCMG KCVO CBE, Teddy Sheean VC,  Sir Hughie Edwards VC KCMG CB DSO OBE DFC, Flt Sgt Rawdon Middleton VC, and Flt Lieut William Newton VC.
–
The RAAF Victoria Crosses are probably less well known. This is an outline of them-
–
Wing Commander Sir Hughie Edwards VC Citation reads – "On 4th July 1941 over Bremen Germany: Wing Commander Edwards led a formation of bombers, in daylight, at a height of about 50 feet through telephone wires and high-tension cables to attack the heavily defended port. The bombers successfully penetrated fierce anti-aircraft fire and a dense balloon barrage. Further fire over the port itself resulted in the loss of 4 aircraft. His task completed, Wing Commander Edwards brought his remaining aircraft safely back to base although all of them had been damaged."
The Bust in the right corner of the display is that of Sir Hughie.
–
Flt Sgt Middleton was awarded his VC for a raid over Turin, Italy on 28-29  November 1942.he was in command of a Stirling Bomber which was hit by anti-aircraft fire over the target. One shell burst into the cockpit destroying his right eye & wounding the co,pilot and Wireless Operator. Although there was heavy flack, he released his bombs on the target and continued his return journey over the Alps in a heavily damaged aircraft. He managed to cross the Channel and ordered his crew to bail out over land with only 5 mins fuel left. Five landed safely while 2 remained with him.
–
He then turned the aircraft out to sea to avoid crashing into civilians. The 2 crew parachuted into the sea but drowned. He did not survive the crash. His VC was awarded posthumously. In Feb 1943 his body was washed ashore at Dover and he was buried with full Air Force Honours.
–
Flt Lieut Newton was awarded his VC for completing 52 operational sorties  over the Salamana isthmus, New Guinea from May 1942 to 16 March 1943.
–
On 17 March 1943 he returned to the same target and at a low level successfully bombed a single building, but his aircraft burst into flames. With great difficulty, he turned the aircraft  towards the sea to give the crew a chance to survive. Two members of his crew swan to shore.
–
Although his cockpit didn't open initially, he also managed to swim to shore. However he and his Flt Sgt were captured by the Japs and later executed. The brutal beheadings on 29 March 43 were described in a captured Jap Diary in October 1943. The VC Award was posthumous.
–
The No. 4 airfield at Nadzab New Guinea, was named in his honour. This airfield played an important part in landing the 25th Brigade (including the 2/31st Battalion) in their push down the Markham Valley to capture Lae in September 1943. It was later a major Allied Airfield for the remainder of the War.
LEST WE FORGET
Mick James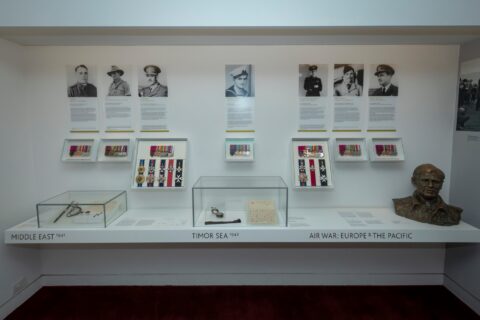 The new Display in the Hall of Valour
–
It is also appropriate to include the story of Teddy Sheean
–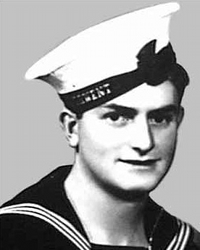 Edward 'Teddy' Sheean was born on 28 December 1923 at Lower Barrington, Tasmania, fourteenth child of James Sheean, labourer, and his wife Mary Jane, née Broomhall. Soon afterwards the family moved to Latrobe. Teddy was educated at the local Catholic school. Five foot 8½ inches (174cm) tall and well built, he took casual work on farms between Latrobe and Merseylea. In Hobart on 21 April 1941 he enlisted in the Royal Australian Naval Reserve as an Ordinary Seaman, following in the steps of five of his brothers who had joined the armed forces (four of them were in the Army and one in the Navy). On completing his initial training, he was sent to Flinders Naval Depot, Westernport, Victoria, in February 1942 for further instruction.
In May Sheean was posted to Sydney where he was billeted at Garden Island in the requisitioned ferry Kuttabul, prior to joining his first ship as an Oerlikon anti-aircraft gun loader. Granted home leave, he was not on board Kuttabul when Japanese midget submarines raided the harbour and sank her on 31 May. Eleven days later he returned to Sydney to help commission the new corvette HMAS Armidale (I), which carried out escort duties along the eastern Australian coast and in New Guinea waters. Ordered to sail for Darwin in October, Armidale arrived there early next month.
On 29 November Armidale sailed for Japanese-occupied Timor, in company with the corvette HMAS Castlemaine, to withdraw the exhausted Australian 2/2 Independent Company, evacuate about 150 Portuguese civilians and 190 Dutch troops, and land soldiers to reinforce Dutch guerrillas on the island. Arriving off Betano before dawn on 1 December, the ships rendezvoused with the naval tender HMAS Kuru, which had already taken the civilians on board. When these people were transferred to Castlemaine, she sailed for Darwin, leaving the other two vessels to carry out the rest of the operation. From 12:28 Armidale and Kuru came under repeated attack from Japanese aircraft. Despite requests, no air cover was received.
The Loss of HMAS Armidale (I)
Shortly before 14:00 on 1 December 1942, Armidale, by then separated from Kuru, was attacked by no less than thirteen aircraft. The corvette manoeuvred frantically. At 15:15 a torpedo struck her port side and another hit the engineering spaces; finally a bomb struck aft. As the vessel listed heavily to port, the order was given to abandon ship. The survivors leapt into the sea and were machine-gunned by the Japanese aircraft. Once he had helped to free a life raft, Sheean scrambled back to his gun on the sinking ship. Although wounded in the chest and back, the 18-year-old sailor shot down one bomber and kept other aircraft away from his comrades in the water. He was seen still firing his gun as Armidale slipped below the waves. Only 49 of the 149 men who had been on board survived the sinking and the ensuing days in life rafts.

Recognition
Sheean was mentioned in dispatches for his bravery and in 1999 HMAS Sheean, a Collins Class submarine, was named after him – the only ship in the RAN to bear the name of a sailor.
In 2020, following a sustained public campaign to have Ordinary Seaman Sheean's selfless actions appropriately recognised, an expert panel recommended to the Australian Government that he be considered for the the award of a Victoria Cross.
On 12 August 2020 His Excellency General the Honourable David Hurley AC DSC (Ret'd) Governor-General of the Commonwealth of Australia announced that Her Majesty Queen Elizabeth II had approved a posthumous award of the Victoria Cross to Ordinary Seaman Sheean.
In doing so, Ordinary Seaman Sheean became the first member of the Royal Australian Navy to be awarded Australia's highest honour for valour.
On 1 December 2020, 78 years to the day since the death of Ordinary Seaman Sheean and the loss of HMAS Armidale (I), the Governor-General presented the insignia of the Victoria Cross for Australia to Teddy Sheean's family at a ceremony held at Government House in Canberra, ACT.
Source: http://adb.anu.edu.au/biography/sheean-edward-11671.