Members and Friends
DUE TO UNFORESEEN CIRCUMSTANCES WE HAVE BEEN FORCED TO CHANGE THE VENUE OF OUR AGM/Meeting – LUNCH ON TUESDAY 9th March. REFER TO THE ATTACHED DOCUMENTS. (1) New AMENDED Notice.  (2) MAP  (3) Menu  (4) Agenda

We will NOT be at our previous Venue – Sherwood Services Club now called Westside HQ
NEW VENUE:- Close by at the CORINDA TAVERN – 651 Oxley Rd. CORINDA.   REFER ATTACHED MAP If coming from the Railway station walk down the Laneway thru to Oxley Rd then turn Right and walk to the Tavern. (Its about the same distance you would have had to walk to the Services Club)
REGISTRATION:- Will be from 11.15AM – MEETING WILL START at 12.00 Midday.

LUNCH:-  PLEASE SELECT YOUR MEAL FROM THE ATTACHED MENU & advise me when you RSVP. Cost for the Lunch including Wine, Beer & Soft  Drinks at the Table during Lunch will be the standard $25 Per Head. All Drinks prior to lunch being Served & after Lunch will be at your expense.

GUEST SPEAKER:- will be our very own LTCOL Mick Byrne. Mick has been a Liaison Officer attached to the Singaporian Army during the last couple of years during Exercises at Shoalwater Bay. (Pre Covid-19) His address will be on his experiences whilst attached to the Singaporians.
Association President Greg Stokie will be traveling down from Townsville, to attend the Meeting. Greg will bring us up to date on this Years planed Programme in Townsvil
Please RSVP  re your attendance NO LATER THAN WED 3rd March & Also advise me your Lunch Choice. by Email or Ph/Text – 0427 337 177

Regards TONY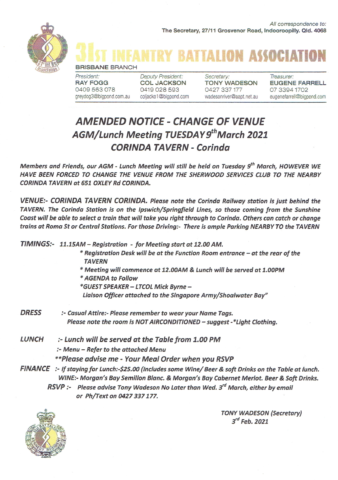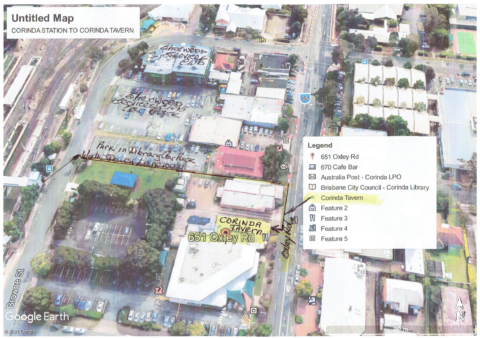 31st Bn Assoc. AGM AGENDA 9th Mar 2021
–
31st Bn AGM Minutes 20th Aug 2020
–
31st Bn Presidents Report 2020
–
31st Bn AGM 2021 Treasures Report 2020
–
31st Bn 2021 AGM Battle for Australia Commemoration 2020 Report by Mick James
–
Battle for Australia – 78th Anniversary – Commemorative Address – BRIG Jason Blain
–
31st Bn 2021 AGM Mick James Report 104th Battle of Fromelles Service Ipswich
–
2/31st Bn Veterans,Families & Friends Report by Tim Lewis
–
31st Bn AGM 2021 Report Lindsey Timms on 2nd 31st Bn Facebook Page