Message from Association Brisbane Branch Secretary, Tony Wadeson:
Members I regret to advise that our 2/31st Bn Life Member, – WW2 Veteran & Victorian Past President of the 2/31st & 2/25 Battalions Association – Keith Hearne passed away on Christmas Day. Attached is a Photo taken of Keith receiving his 31st Bn Assoc. Honorary Life Membership Tribute at the Frankston RSL Club on 7th Sept last. We had been trying to present it to him since 2020 but were unable due to Covid State Border lock downs. The event was covered on this website (See "Keith Hearne – Honorary Life Membership" in Archives for October 2022 for his wonderful history of service to the RSL and the Community )
I've attached Keiths RSL Bio & you will note amongst other things that he was a Life Member of the RSL.
Funeral Arrangements have yet to be announced. – I will update you when they become available.
If its possible I would ask if our Melbourne Based Members, Peter Nelson & Brian Mullarvey & any 2/31st Bn Veteran, Descendants, could attend the Funeral. The Frankston RSL Sub Branch will be involved as The Victorian RSL State President apparently will be involved. Berets, Medals, & Name Tags Should be worn.
Keith Hearne – 2nd/31st Bn – WW2 Veteran – Life Member RSL – Life Member 31st Bn Assoc. 
Regards Tony
Keith was also mentioned on this website in the article "2/31st Battalion Memorabilia" (Archive March 2019).
He was also featured in the article "Keith Hearne" (Archive September 2020) that tells a brief story of his experience in Balikpapan and of his subsequent service to the community. Also of his determination to go to PapuaNewguinea for the reinterment of some of his 2/31 Battalion mates who perished when their aircraft repatriating wounded from Balikpapan and Moritai crashed in West Papua in the latter stages of the war. 
–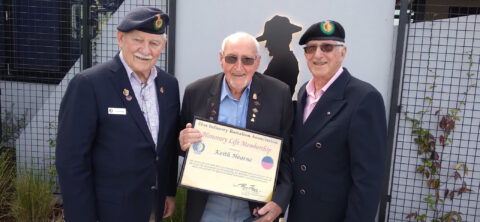 Keith receiving his Honorary Life Membership of the 31st Battalion Association
–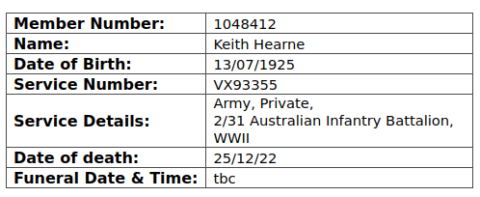 Frankston RSL Notice of Keith's Passing
–