31st Battalion Association Member Mick James shares his memories of the late LTCOL Jim Bourke:
Many members of 31stBattalion Association recall fondly the Late Jim Bourke who grew up in Ayr and later was the ARA Adjutant of 31st Battalion RQR in1969-71 . I understand he was Dux of Senior (Grade 12) at Ayr High School. He received a Commission through Portsea OTC and was a Platoon Commander with 1RAR during their tour of Sth Vietnam in1965-6. He was seriously wounded during that Tour, but returned to Vietnam in1968 with the AATTV in I Corp (Northern Sth Vietnam) as a Captain with a MIC Force Unit commanded by an American Colonel with many of the Company Commanders Australian Officers or Warrant Officers.
The story below by a former fellow Army Officer, describes Jim's efforts after he had left the Army to recover the 6 bodies of Australian Servicemen left behind in Sth Vietnam including 2 from his own 1RAR Platoon. He led a multiple year Operation named Operation Aussies Home with private financing to recover the bodies and return them to their families in Australia for burial and closure for the families.
I can confirm part of the story about Jim opening a steel beer can on returning to their secure compound after an operaton. The shot put the Camp on "Stand To" and when he was found to be the culprit, he was referred to the senior Australian Officer in Vietnam, Maj Gen A. L. McDonald for discipline. Jim says he was admonished by the General.
In 1970 I was the IO of 31stBattalion & Jim was ARA Adjutant on our annual camp at High Range, when Jim received word that Gen McDonald (then GOC of Northern Command) was to visit us later that morning. Jim did not wish to meet up with him again, so organised for both of us to do a Recce for our Exercise the following week. We were away from Camp for over 2 hours which covered the General's entire visit, much to the relief of Jim.
Jim was awarded an AM for his efforts in leading a team to recover the 6 servicemens bodies & returning them to their families. He became friends with Lambis Englezos (who found 250 bodies from the Battle of Fromelles), and Ted Graham (who led the team who discovered HMAS Sydney, sunk in WW2). All 3 were awarded AMs in the Australian Honours- see attached photo.
Jim was one of 19 awarded a Medal for Gallantry in the end of War list in1998.
Jim was encouraged to write a PHD Thesis titled "Living with Unresolved Grief and Uncompleted Tasks: Achieving Closure around Ambiguous Loss and Traumatic Events during Wartime".You can access it here – Living with Unresolved Grief and Uncompleted Tasks : Achieving Closure around Ambiguous Loss and Traumatic Events during Wartime | VU Research Repository | Victoria University | Melbourne Australia
Jim's Post Nominals are MG AM PHD, a very rare combination.
LEST WE FORGET THIS OUTSTANDING 31ST Battalion Soldier
Mick James
—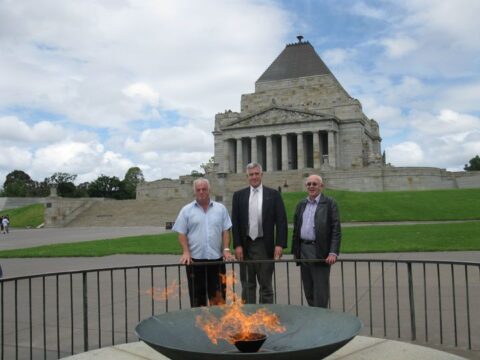 –
The following is a brief description of Jim's life by fellow Officer – Ross Eastgate OAM.
Jim Bourke – Remembering a one-off, larger than life character as I recall him.
6 Oct 2015
JIM BOURKE marched off at 1400 precisely last Friday 1 October 2015
To give him his full title, Lt Col (Retired) Dr James Raymond Bourke, Member of the Order of Australia, Medal of Gallantry, Doctor of Philosophy (Victoria University) departed this life after a long illness, lung cancer actually, the legacy of an early life not always wisely spent.
Born in Ayr, Far North Queenslander Bourke, aka Bindi was a 1964 Portsea graduate.
His mates agree the mould was broken when he arrived. There was none other like him and there will unlikely be again. He had what was described in the army of that time as a "bit of a suntan", not that it mattered.
He served two Vietnam tours, with 1RAR in 1965 and 1968-1969 with the training team and after the logistics support group at Vung Tau.
During his first tour he had to leave two of his diggers on the battlefield, even knowing they were dead it was a burden he was determined not to carry to his grave.
Later in that tour he suffered a grievous head wound, the bullet passing through his mouth and exiting near his ear. He spent months in hospital as his face was reconstructed, needing dentures to replace his lost teeth. That was an easy loss to bear compared with his lost soldiers.
There are many no doubt apocryphal stories about Jim Bourke, but none unbelievable to those who knew him.
He allegedly once opened a steel beer can by firing a .45 pistol round through its top, which is possibly why his AATTV tour was cut short.
At his army farewell at Sydney's Victoria Barracks in 1980, the dentists who had conducted his discharge examination had made, at the suggestion of one of his fellow officers who may now possibly be governor-general, new dentures of bright metal, fashioned after the teeth of a german shepherd, including prominent canine incisors.
Jim Bourke demonstrated their efficacy by tearing the flesh of a roast chicken from its bones. Those teeth were not unsuited to the personality of this larger than life character. They also typified a tenacity to pursue and devour things which bothered him. The loss of Lcpl "Tiny" Parker and Pte Peter Gillson was one.
After Vietnam there were six Australian soldiers whose remains had not been recovered. Jim Bourke's persistence to discover and repatriate them drove his latter decades. He pleaded, bullied cajoled officials and bureaucrats here and in Vietnam until with reluctant Australian government support he located all their remains, bringing them home as he promised he would do to give their families closure.
It also gave closure to Jim Bourke's anguish at having left two of his diggers behind.
He wrote a thesis on that wider anguish which resulted last week in the presentation of his PhD, sadly on his deathbed.
He had unfinished work he believed, to do the same for Australians missing in action in Korea.
Rest easy mate, for others will pursue that cause in your memory.
Ross Eastgate
https://www.adso.org.au/jim-bourke-remembering-a-one-off-larger-than-life-character-as-i-recall-him/
—