Gathering at the Sherwood Services Club, Brisbane on 19th October 2023 were a group of members of the 31st Battalion Association for the special occasion to present a Life Membership Award to retired WO1 Raymond "Dasher" Deed BEM. Committee Member Mick James reports on the occasion:   
Today at Sherwood Services Club the 31st Battalion Association presented retired WO1 Raymond "Dasher" Deed BEM with Life Membership of the Association for his many years of devoted service to the Association. Present at the lunch function were Brisbane branch, President Ray Fogg (who made the presentation) , Vice President Col Jackson, Secretary Tony Wadeson, & Committee member Mick James.
–
'Ray's Army service began in the last days of WW2 and he joined 67th Bn which was part of the British Expeditionary Force to Japan . He was there for over 4 years as it became 3rd Battalion RAR on the 20th October 1945. When the Korean War broke out in 1950, 3rd Bn RAR ,after a period of intensive training in Japan was the first Australian Unit committed to the United Nations Force and landed in Korea in late September 1950 as part of the 27th Commonwealth Brigade.
While initially the Brigade, along with other United Nations forces, pushed north of the 38th Parallel, they were forced to withdraw against the numerous Chinese troops who had joined the conflict. The 27th C'wealth Brigade (3000 troops) defended their position at Kapyong against Chinese troops estimated between 10,000-20000. The 3 Battalions of the 27th Brigade were awarded the US Presidential Unit Citation for their efforts in stopping the Chinese from taking Seoul , approx. 50 Klms to the south west.
The Battle was fought from 22nd to 27th April 1951 and Dasher blames the Chinese for not allowing him to celebrate his 24th birthday on 25thApril that year. He has mixed feelings every Anzac Day, while celebrating his Birthday, he mourns the loss of 18 fellow 3 RAR members who died during that Battle.
Dasher was awarded a British Empire Medal (BEM) in the King's Birthday Honours on 5/6/1952. It reads-
"BEM: LG 5/6/1952, p3058; CAG 19/6/1952, p2832, to 1921 Sergeant Raymond Deed, 1RHU (1st Reinforcement Holding Unit).
Citation: Integrity & devotion in training reinforcements.
Recommendation: Sergeant Deed returned to Japan from Korea on 25 June 1951 after serving during the bitter winter campaigns. Quite frequently whilst in Korea this NCO commanded a platoon with distinction. On his return he elected to stay in Japan to train reinforcements for the battalion, although he was given the option of returning to his home in Australia. Sergeant Deed was aware of the urgent need for trained reinforcements.
This Unit has always been short of officers and Sergeant Deed has been entrusted with platoons on field firing exercises, bivouacs and such exercises. His integrity, devotion to duty and ability always of the highest, has on these occasions been proved by the fact that not one man of his platoon has ever suffered injury during training.
During the period of the October campaign, when Third Battalion, The Royal Australian Regiment was in desperate need of reinforcements, Sergeant Deed worked continuously without rest for five weeks and to his credit must be attributed much of the credit that it was possible to send enough well trained reinforcements forward to bring the battalion to full strength within a few weeks.""
Dasher served as a WO2 Instructor with 31stBn RQR in the mid1960s before a posting to AATTV as a WO1. On his return from Vietnam , Dasher was attached to a Cadet Unit based at Lavarack Baracks before relieving the Adjutant at 51stBn RQR and a subsequent posting as RSM of the Battalion.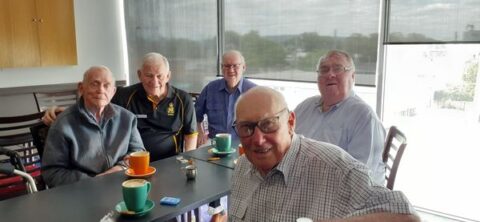 Members (L to R) Ray "Dasher" Deed BEM, Tony Wadeson, (Secretary Brisbane Branch)
Mick James, Ray Fogg (President Brisbane Branch), Col Jackson (Vice-President Brisbane Branch)
–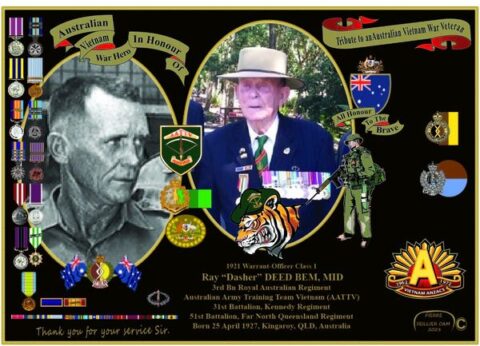 Plaque for Ray "Dasher" Deed
Produced by Honorary Member Pierre Seillier