This year as we commemorate Remembrance Day we highlight the work of the Australian Remembrance Army.  Following the 107th Anniversary of the Battle of Fromelles Commemoration on 19th July 2023, the Official Party with relatives of those who fought in the Battle were invited to a light lunch at the Soldiers Hall. At the Lunch 31st Battalion Association's Mick James made a special Presentation that tied in with the Battle of Fromelles Commemoration. Part of Mick's presentation is recorded as follows:
–
"My name is Mick James and I'm on the 31st Battalion organizing Committee for this Battle of Fromelles Commemoration. I'd like to take a few moments to inform you of a similarity between this Commemoration and another occurrence in Brisbane."
–
"Later today French time at Fromelles CWG Cemetery Pheasant Wood there will be another 7 graves that will now have named Headstones, bringing the total to 173 with named headstones. These men have lain in unmarked graves for at least 90 years."
–
"Similarly in Brisbane and other Cemeteries throughout Australia, there are many WW1 Diggers who returned from the War and subsequently died and were buried in Military Sections of Cemeteries, almost all without a name plate on their grave. Such was the case in Lutwyche Cemetery in Brisbane until recently."
–
"In 2019 the Australian Remembrance Army, led by Cate Walker & Katrina Trevethan applied for a Federal Govt Grant of $317,000, to research, produce & place metal Plaques on 709 graves of WW1 diggers who died in the 1940s,50s & 60s. The grant was approved and in April this year the 1st 247 name plaques were unveiled, including one for RSM Francis Law of 31st Bn. He is one of twenty 31st Battalion WW1 diggers who will have a named Plaque when the project is completed."
–
"Francis Law was a Sgt during the Battle of Fromelles, where, for his gallant actions in enemy trenches he was awarded a Distinguished Conduct Medal (DCM), and shortly after was promoted RSM." For further information on RSM Francis Law DCM see the article – WO1 Francis Law – on this website.
Cate and Katrina were called forward to receive the presentation.
"On behalf of the 31st Battalion Association, I would like to present this Tribute to RSM Francis Law DCM to each of you in appreciation of the great work you are doing."
For Further information on the Remembrance Army's Project see Archives – April 2023 – on this website (Unveilling of Plaques at Lutwyche Cemetery). 
–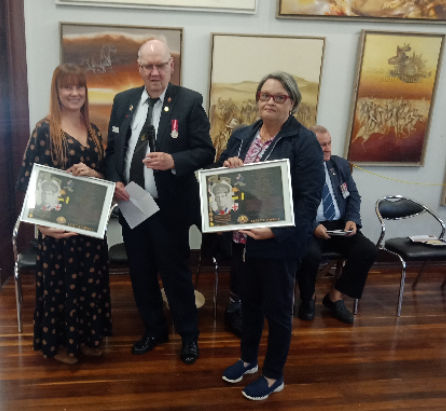 Presentation of Plaques to Remembrance Army's Cate Walker and Katrina Trevethan
by Mick James on the Anniversary of the Battle of Fromelles 2023.
–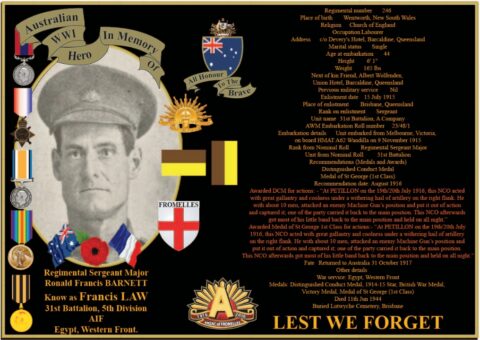 The Plaque of WO1 Francis Law DCM presented to Remembrance Army Representitives
Cate Walker and Katrina Trevethan
(Plaque was Created by Association Honorary Member Pierre Seillier)