The following information was passed on by our Association Secretary, Tony Wadeson:
Our Honorary Member Pierre Seillier, Volunteer Guide of Fromelles Battle Field & Cemetery's has advised us of the Identity of the 7 newly Identified Soldiers in the Pheasant Wood Military Cemetery – Fromelles.

The remains of these soldiers were previously buried by the Germans in Mass Graves behind their Lines in Pheasant Wood after the Battle of Fromelles on 19th July 1916. These were the bodies of soldiers who died behind the German lines when the Germans counter attacked those Battalions that had successfully broken through the German Front line (31st Bn being one).

The Graves were never identified, until a Greek born Melbourne School Teacher, "Lambis Englezos AM" realized that the Graves of Unidentified bodies from the Battle, fell far short of the number of Missing. The determined & dedicated Lambis set out to find the whereabouts of these remains. After years of research & then having to convince the authorities that the bodies were buried by the Germans at Pheasant Wood, 250 bodies were eventually recovered in 2009. The remains were reburied in a new Cemetery closer to the Town & named Pheasant Wood Military Cemetery. Through a process of DNA supplied by relatives approximately 166 Bodies have so far been identified.

These 7 Soldiers are the latest to have been identified & their names and Unit details will be engraved on the previously blank Headstones. They will be formally recognized and Headstones unveiled, at the Annual Fromelles Commemoration Ceremony to be held on the 19th July 2019.  (Refer the Photo below taken at the 100th Year (2016) Ceremony at Pheasant Wood Cemetery . Our Member Bruce Lees & his Daughter in attendance at the Unveiling of his Grand Fathers Headstone. Note the other unveiled Red covered Headstone).
THE 7 NEW IDENTIFIED SOLDIERS:-
641  Pte. Leslie Clark Dunn  – 31st Bn

715  L/Cpl Ralph Johnson    – 31st Bn
  77  L/Cpl John Alexander Crawford  –  32nd Bn

352  Pte. Arthur George Batt                –  32nd Bn
1291 Pte. George Honey                       –  32nd Bn
3433 Pte. Peter Paul Shannon             –  53rd Bn
4188 Pte. Edward James Hope            –  54th Bn
MAY THEY REST IN PEACE
Our Honorary member resident in France Pierre Seillier laid a wreath at the Fromelles Ceremony in Pheasant Wood Militaru Cemetery on 19th July 2019 on behalf of the 31st Inf Bn Assoc (See photos taken at the service below).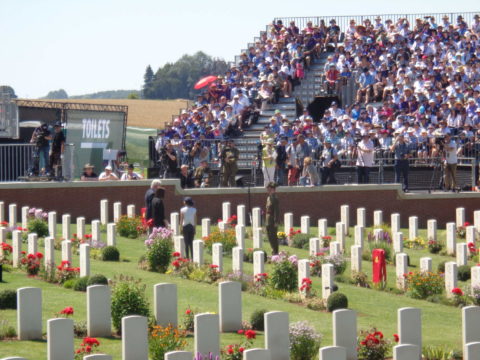 Member Bruce Lees with his Daughter at the grave of his Grandfather
In Pheasant Wood Military Cemetery in 2016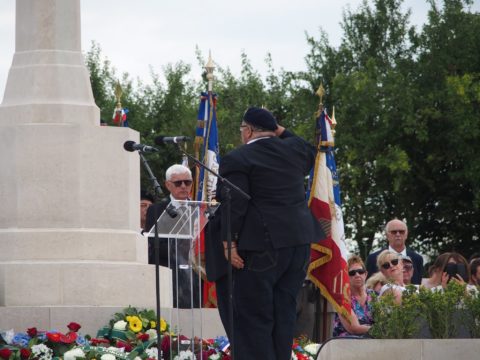 Honorary Member Pierre Seillier Laying Wreath at the Service at Fromelles, Northern France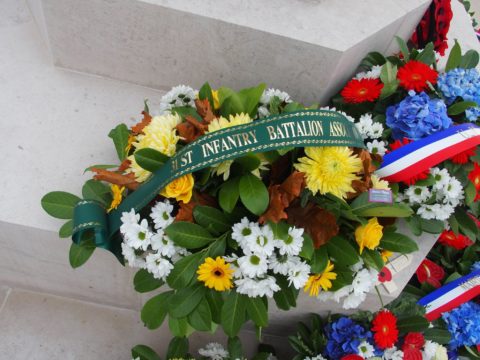 31st Battalion Association Wreath laid by Pierre at the Battle of Fromelles Commemoration, France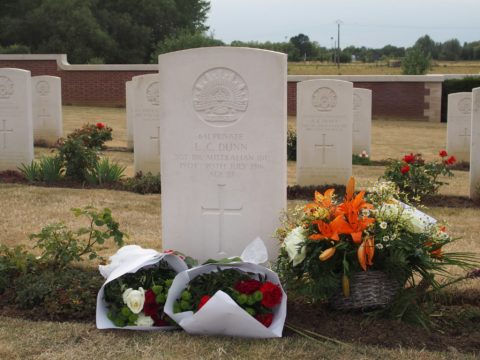 Headstone of Pte Leslie Clark Dunn in Pheasant Wood Military Cemetery, Fromelles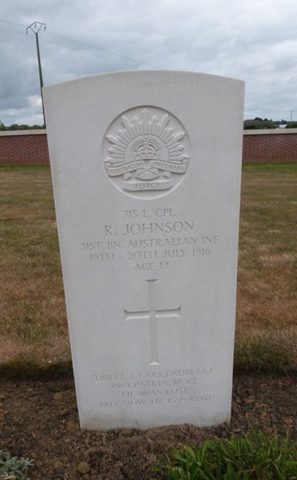 Headstone of Cpl Ralph Johnson in Pheasant Wood Military Cemetery, Fromelles