In September our Association Brisbane Branch Secretary, Tony Wadeson, visited Victoria where he presented the Association's Honorary LIFE MEMBER to KEITH HEARNE – Past President of 2/31st & 2/25th Battalion Association Victoria. In an email to the President of the Frankston RSL Tony gives a brief of Kieth's achievements over many years of RSL and community involvement.
For Attention President Kevin:- I refer to our Visit to your Club on Wednesday 7th Sept. for Lunch & to present an "Honorary Life Membership Tribute" to 97 Year old Keith Hearne WW2 Digger, & Past President of the 2/31st Bn & 2/25th Bn Association Victoria, who now resides in "Micare Avondrust Village.
As Requested I'm forwarding you:- (A) Details of Keith Hearne & his RSL Resume, – Details of the 31st Bn Association. (B) Photo of Presentation at Frankston RSL Names in Photo – from left to Right – Tony Wadeson Secretary 31st Bn Association Brisbane, – Keith Hearne WW2 Digger 2/31st Bn & Past President of 2/31st & 2/25th Bn's Victoria, – Brian Mullarvey 31st Bn Assoc. Member. (Brian served with 42Bn as 2IC Biloela Company for a short period in the early 1970's I believe? – He was The ARC Engineering P/L Manager of our Gladstone Factory at the time before being transferred to Manager/Tasmania.
Please refer to the Attached details & Photos.
Kevin, I would like to Congratulate you on Your Excellent Club, particularly your Staff who bent over backwoods to cater for our needs in the restaurant & where to take photos etc for the Presentation. It really made our visit enjoyable & successful.
Kindest Regards, 
Tony Wadeson -Secretary – 31st Bn Assoc (Brisbane)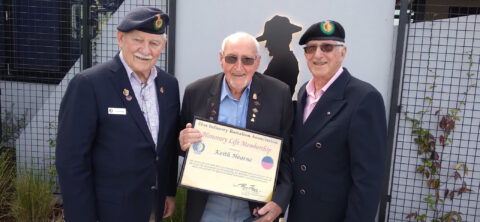 KEITH HEARNE
2/31st Bn – WW2 Veteran
President of the 2/31st & 2/25th Battalions Assoc. Victoria
Gold Badge – Life Membership RSL
Life Member – 7th Division AIF Association
Honorary Life Member – 31st Infantry Battalion Association Inc.
The 31st Bn Association first made contact with Keith Hearne during July 2010 when a group of WW2 Veterans of the 2/31st Bn AIF were touring their old pre battle training areas in North Q'ld. They called in to Kissing Point Townsville to present an old "31st Bn Flag" to the North Queensland Military Museum. Keith who was, and had been, President of the 2/31st & 2/25th Bn's Association Victoria as long as anyone could remember and one of the last operating in Australia, made contact with Committee Members of 31st Bn Association to request that we might take over the job of "Remembrance of the 2/31st Bn" due to their Association's dwindling Numbers. Our Committee members indicated that they would certainly be proud to take on the Caretaker role to ensure that such a famous Battalion as the 2/31st would "LIVE ON". Twelve years on and that is work in progress with the Brisbane Branch joining with the Descendants of Veterans of 2/31st Bn in the Anzac Day Memorial Service at South Bank and the Brisbane Anzac Day March. Brisbane Branch member Tim Lewis, whose Father served with the 2/31st at Balikpapan, took on the role of 2/31st Bn co-ordinator, and has made contact with family members of past 2/31st Bn Presidents or committee members from all Eastern States. The Victorian Branch of the 2/31st Bn & 2/25th Bn Association folded about 5 years ago as numbers dwindled. It was the last Branch to close in Australia. As far as we are aware Keith Hearne & his Secretary Walter Robertson are the only two WW2 members of the 2/31st Bn still alive today. (Refer Keith's RSL Resume – here under).
For your Info:- 2/31st & 2/25th Bn's were sister Bn's in the 25th Brigade – 7th Division- 2nd AIF
25th Brigade was formed in England & served in ENGLAND as part of the Defence Force of England. Then Served in SYRIA & Palestine. – NEW GUINEA:- – Kokoda Track, Ioribaiwa – Oivi Gorari – Buna, Gona. – Lae, Nadzab, – Ramu Valley. BORNEO:- Balikpapan
The 31st Infantry Battalion Association Inc. – WEBSITE:- Google – 31bnassn.org
The 31st Bn is the only Battalion from the WW1 – Fifth Division still on strength in the Australian Army's Order of Battle today. It's now known as 31/42 Bn RQR – HQ'd in Townsville, but drawing its Troops from Cairns down to Gladstone and west of those towns. Both the 31st Bn originally the Kennedy Regiment, and 42nd Bn, originally the Capricorn Regiment trace their history back to 1881. Most members of the 31st Bn Association have served with the 31st Bn. In North Queensland. The Association has Branch's in Townsville, – Charters Towers, – Ingham, & Brisbane.
TONY WADESON (Secretary- 31st Bn Assoc. Brisbane)
Email:- wadesonriver@aapt.net.au
Keith Hearne's – R S L Service Resume as at – "2002"
Sub Branch:- Bairnsdale
Service in Years Member 55
Committee 7
Welfare 35
V/Affairs 35
Anzac Poppy Appeals 35
Land Settlement/Rural 5
Hospital Visiting 25
Blood Bank 18
Conference Delegate 8
DISTRICT – 10 – BOARD
Chairman 6
State Councillor 7
Delegate 8
SUB BRANCH
State Executive 5
Committees 5
STATE BRANCH COMMITTEES ANZAC HOUSE
Veteran's Affairs Committee (Chairman)
Land Settlement/Rural – (Secretary)
Appeals
Future of League
Membership
V.J. Commemoration
Diaster Fund Coordinator
OTHER ACTIVITIES.
Gippsland Veterans Welfare Management Committee Sale.
Veterans Affairs Coordination Council at – Veterans Affairs
R.S.L. Disaster Fund Coordinator East Gippsland Floods 1998
R.S.L. Disaster Fund Coordinator East Gippsland Bush Fires 2003
HONOURS & AWARDS
50 years Service Award
Gold Badge Life Membership RSL – June 26 2002
Certificate of Appreciation RSL – June 26 2002
Life Membership – 7th Division Association
Life Membership – 31st Battalion Association
–
Addendum
A story on Keith Hearne and his previous wartime and peacetime involvements appeared on this
website in September 2020 (Type Kieth Hearne into he search box on this website).
The story includes his travelling Papua New Guinea to attend the re-interment of 
2/31 Bn victims of a wartime aircraft crash, remains finally recovered in 2005.
—o—