Vet Affairs Minister , Hon Matt Keogh announced today that 2 soldiers who fought at Fromelles have been identified.
They are:
No 1537 Walter Allen Grace of 31st Bn and
No 20 Edwin Charles Gray of 32nd Bn.
They will have new grave headstones next year at Pheasant Wood Military Cemetery at Fromelles.
–
Another digger who was one of 5 discovered in 2006 at Zonnebeke and reburied at the British Buttes Cemetery has also been named. He is Pte Thomas Allen Gibbens of 29th Bn.
Thanks to our friend and chief driving force behind the finding and identification of the lost diggers of Fromelles Lambis Englezos AM for the good news.
–
Lest We Forget.
–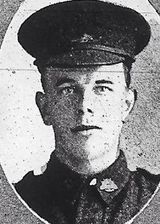 Walter Allen Grace – 31 Battalion
–